After Moria Disaster, What Comes Next?
By Max J. Rosenthal, HIAS.org
Sep 18, 2020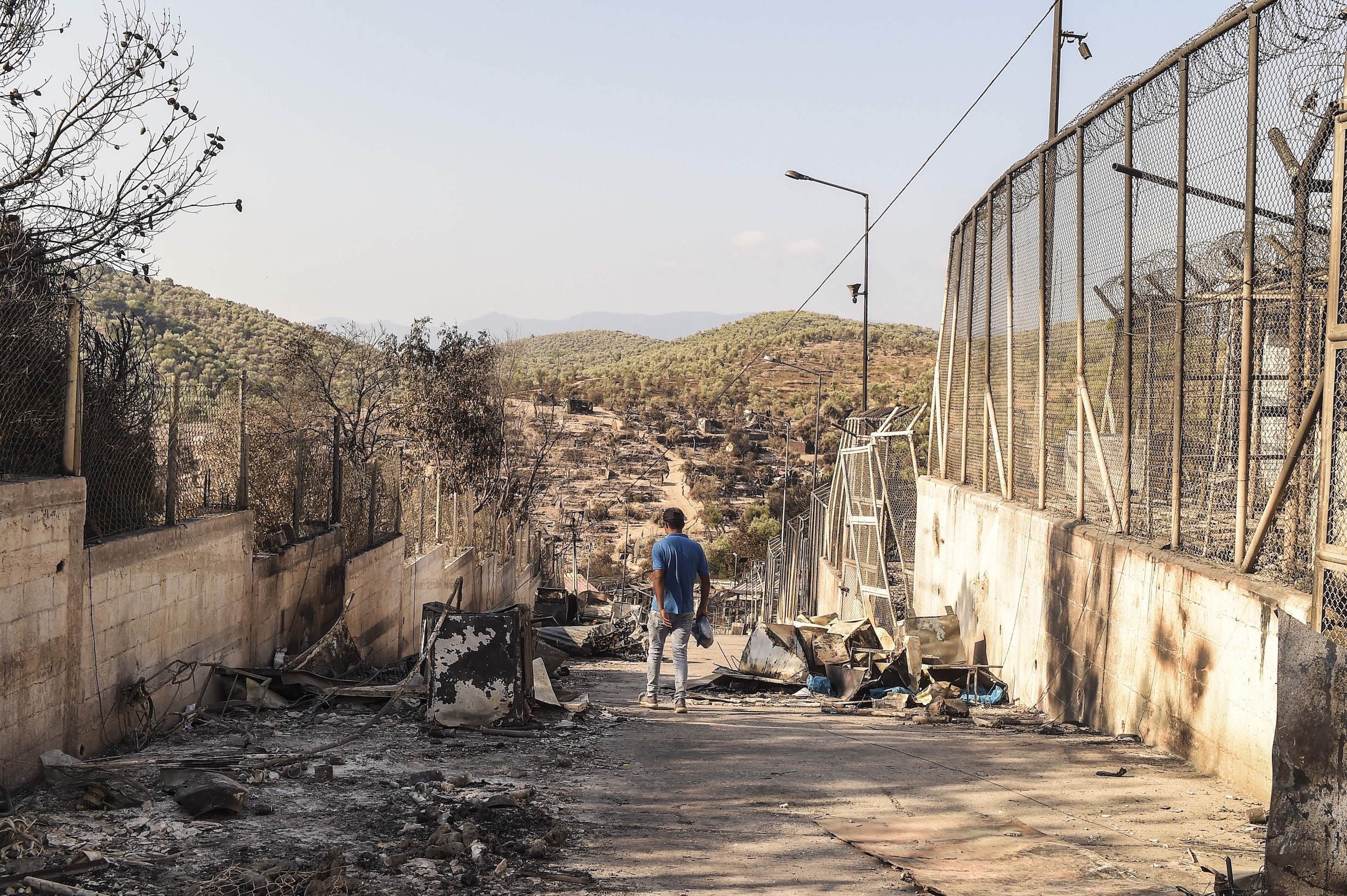 (Angelos Tzortzinis/AFP via Getty Images)
On Sept. 8, the Moria Reception and Identification Centre was Europe's largest refugee camp, home to more than 12,000 people. By Sept. 11, after a series of fires that broke out over the course of last week, it was a smoldering ruin.
"You walk around the ashes and see half-burned cartons of coffee and half-burned pictures of three kids," said Elina Sarantou, HIAS Greece's program coordinator. There were no deaths, but the disaster left thousands of people homeless. "You see people without shoes, without clothes," Sarantou said. "They lost their papers, they've lost their personal items, they've lost everything."
Some 10,000 of the camp's former residents are now living in the open along a nearby stretch of road, penned in by Greek police and waiting to hear what will happen next. While Moria is now gone, no one knows what will replace it — and what that will mean for the refugees and asylum seekers who lived there.
"There are many questions," Sarantou said. "There are no answers."
Many people, including refugees, relief workers, and locals, fear Moria will simply be replaced by another camp — "something very similar, if not worse," as Sarantou put it.
Moria, on the Greek island of Lesvos, was notoriously overcrowded and provided refugees little safety or access to basic services. "People were in horrible conditions for long periods of time, in complete chaos and unprotected for years," Sarantou said. The camp was also under strict lockdown for most of this year to prevent the spread of COVID-19, a measure that remained in place long after the rest of Greece reopened.
The situation in Moria was bleak enough that many refugees saw last week's disaster as somewhat of a relief, even as most were left homeless and without enough water, food, or medical attention. "They were happy because they thought they would leave Lesvos," Sarantou said.
But the Greek government and UNHCR, the U.N. refugee agency, have already set up a temporary camp and brought 1,200 refugees inside. Sarantou is worried it may turn into a permanent solution. Even more worrisome is the lack of information about how the camp will be run.
"They're asking NGOs to tell their clients to enter the camp, but they're not giving us information about the character of this camp," she said. For the refugees who escaped the fire, "the last thing you want is to be either abandoned on the street or forced to enter a camp where no one will explain anything to you in terms of procedures or services available." She is particularly concerned about LGBTQ refugees, gender-based violence survivors, and other vulnerable groups who could be thrust into a camp with abusers.
For those living along the road, the problems seem endless. Many refugees lost their documents in the fires. Police sometimes block aid workers and journalists from entering the area. Some people have not yet located all of their family members, and the lack of electricity means mobile phones can only be switched on for minutes at a time. Meanwhile, shelter and basic necessities remain scarce at best.
Nevertheless, people are trying to rebuild their lives as they wait. HIAS, which provides free legal assistance to asylum seekers in Greece as well as advocating for human rights in the country, has sent its lawyers, social workers, and translators out to locate their clients and find out what they need. Staff members are developing lists of vulnerable asylum seekers who need to be relocated from Lesvos for their safety. As the crisis unfolds, HIAS is also exploring options to expand its work into mental health support and care for survivors of sexual and physical violence.
Sarantou knows that improving the situation in Lesvos is a tall order. "You feel really small," she admitted. "All you can do is wait and see what the government's going to do." But she and HIAS Greece are committed to working on behalf of Moria's former residents and securing them a better future. "In a way I'm happy the spotlight is back on the island," she said, "and we can actually raise this concern."