Adopted "American Parents" Helped Soviet Refugee Thrive
By Rachel Nusbaum, HIAS.org
Aug 13, 2015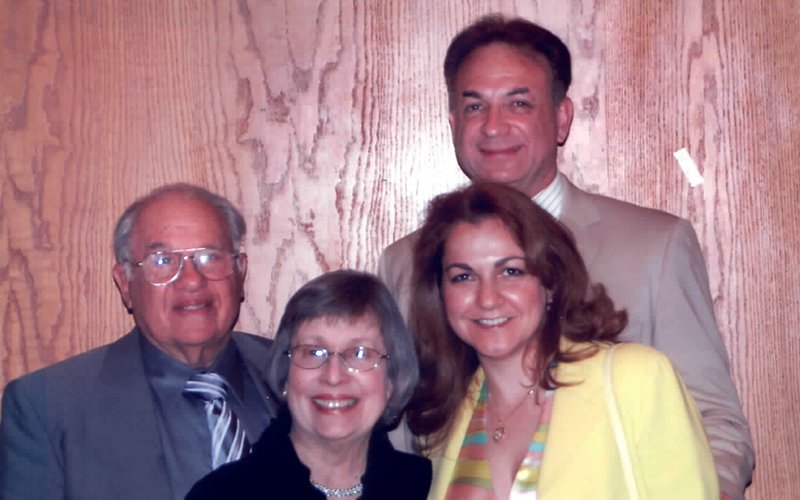 (Photo courtesy of Julia Vinsky)
"Despite how difficult it was in Kyrgyzstan, I never considered applying for asylum before I came to America," Julia Vinsky said.
She calmly described a childhood that involved beatings, broken ribs, concussions and even a kidnapping. The private home which served as a synagogue for the community was burned down on three separate occasions. "They would beat us up, it was difficult, but at that time I did not think of escape," she said. She sums up her parent's attitude succinctly: "you are Jewish, so this is how it is."
Julia excelled as both a student and an athlete, but state-sanctioned discrimination was ever-present. She was the top-ranked junior tennis player in the country for eight years, but she wasn't allowed to travel to most tournaments outside the Soviet Union. She dreamed of going to university in St. Petersburg, but was told not to bother applying.
Everything changed for Julia when, in the winter of 1992, she came to the United States to study at Hofstra University in New York. Although she had intended to stay for only six months, that plan lasted less than 24 hours. "When I got to Hofstra, I called my parents and told them 'I love it here… and I don't think I'm coming back.' They were shocked."
What won her over so quickly? "In my country, to look people in the eye is considered provoking and inappropriate. But here, it was amazing. People actually smile at you on the street." She could no longer fathom returning to Kyrgyzstan, but if she was going to stay she would need help. Short of funds, she began applying to foundations for help.
Fortunately, one of her appeals landed in front of Alan Ascher, a local philanthropist. Moved by her story, he offered his assistance, providing not only financial assistance but much needed guidance. The Aschers soon became close friends. They would call just to check in, and she would ask them pressing cultural questions. What does one bring to a funeral here? What's an appropriate wedding present? "I didn't have any family here, so they became my American parents -- and still are!" Julia says. "They were truly instrumental in my life and I wouldn't be here without them. Alan and Elaine Ascher inspired me and gave me hope for the future. A future that I certainly didn't have in Kyrgyzstan."
She invited Alan and his wife, Elaine to dinner and recalls their complete surprise at the elaborate meal the 19-year-old student had prepared for them, which featured ten different traditional dishes. "They probably thought I was out of my mind," she said, laughing.
Navigating a new culture in a second language is incredibly difficult, to say nothing of the complicated legal process of applying for asylum. For help with the latter, Alan instructed her to contact HIAS. "It was the most important advice anyone could give me," she said. She remembers her first meeting with HIAS attorney Frank Lipiner, who helped her put her case together.
"HIAS was so helpful – they made the process very straightforward," she tells me. "I have a file that is probably 500 pages. HIAS helped gather all that information on the situation in Kyrgyzstan and the type of persecution that existed there. I had no doubt I would get refugee status."
These days, Julia is clearly intent on paying that help forward. She works at a hospital, and has been volunteering with The Tourette Association for more than 2 decades. "My husband and I like to help others. We feel it's something you must do. It is what Alan and Elaine have done for many people."
Inspired by this story? Want to know how you can help new refugees like Julia? Click here to learn more about upcoming volunteer opportunities.