70 Years of Workers' Rights for Refugees
By Galo Quizanga, Global Director of Economic Inclusion and Jessica Therkelsen, Director of Legal Protection
Apr 30, 2021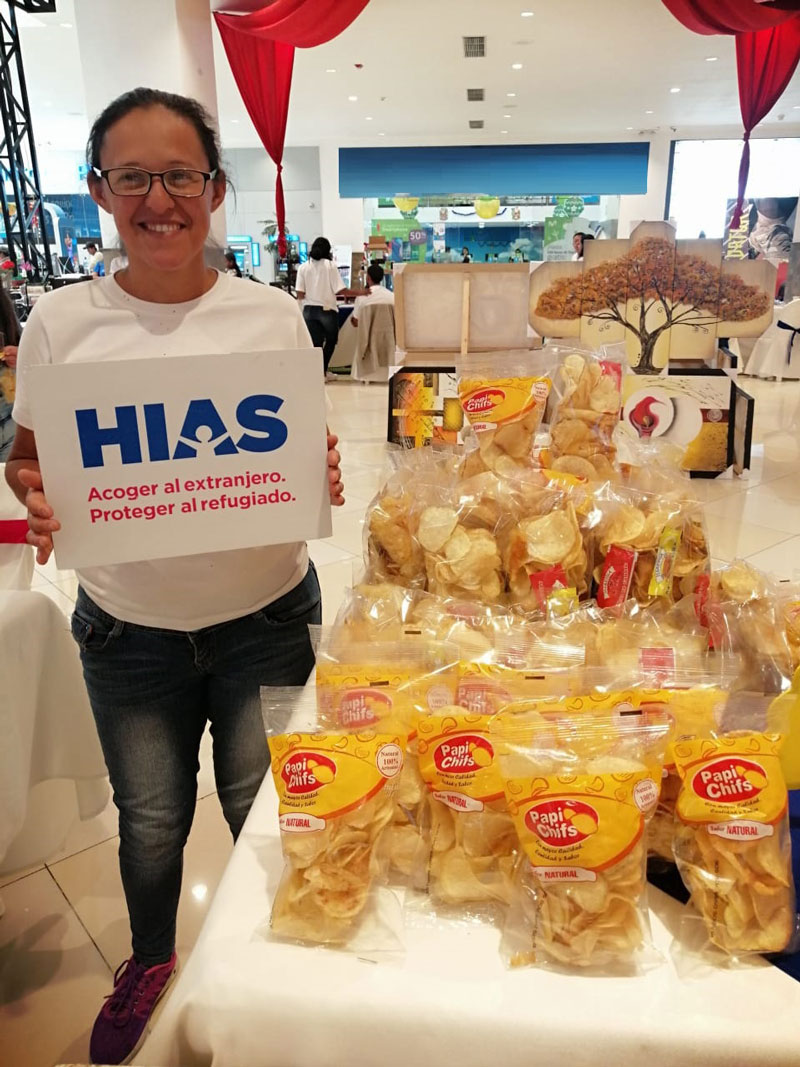 (HIAS Ecuador)
Through the 1940s, refugees and asylum seekers around the world were often barred from working or forced into illegal oppressive working situations to support themselves and their families. On this International Labor Day we look back on 70 years of work since the 1951 Refugee Convention effectively allowed refugees and asylum seekers access to work and the rights that go with it.
May 1 is a day that honors the rights of workers and the enormous contributions of labor movements to our societies. At HIAS, we know first-hand how important safe and fair jobs are to help refugees and asylum seekers build a new life, and we understand the impact workers' rights have on their ability to become self-reliant. The original writers of the Convention were deeply concerned with ensuring refugees the ability to become economically productive members of their new countries. In essence, they built a way for refugees to be included in the workforce, which included; self-employment; professional training and diplomas; labor protections and social security; and freedom of association, such as joining a union.
Labor protections such as minimum wage, overtime, and health and safety laws are critical to creating a healthy and inclusive workforce and an integrated, constructive society. Without these rights, workers and especially refugees, can suffer abuses without redress and are vulnerable to exploitation, and also can fall victim to black market labor that ultimately undercuts local economies through wage reduction. In turn, wage reduction can spark animosity between newcomers and the local community, leading to increased tensions and xenophobia.
Ensuring that the terms of the 1951 Convention are met, however, is just the start of our work. Not only do we help prevent social tensions, we help refugees and their new neighbors understand how they can contribute in significant economic ways.
At HIAS, we see the tangible benefits of including refugees and asylum seekers in local economies and have built many economic inclusion programs around the world to ensure the right to work is attainable and accessible for our clients. We offer business skills training, provide seed capital to entrepreneurs, and help refugees access labor permits, benefits, and employment in their country of asylum. A World Bank study shows that providing economic inclusion opportunities to refugees and migrants could generate a contribution of 2% to 10% of the GDP in host countries.
The effects of human migration can result in greater challenges for women and girls, with refugee and migrant girls and women facing greater risk of rights violations as well as gender-based violence. During the pandemic there has been an exponential increase in the risks of gender-based violence and job insecurity for women. This International Labor Day we want to ratify our commitment that the economic programs we develop also focus on preventing, mitigating, and responding to gender-based violence.
We can look to the story of Astrid, a single female head of household with two children who fled her home country in Central America to be reminded that the human spirit is why we need to provide structures through which refugees can keep reaching for success. Astrid's tireless entrepreneurial drive led her to establish a small incense-making business in her new country, Costa Rica. HIAS provided her with guidance to import raw materials for her economic activity, but she suffered a setback by a fire at her house. HIAS provided legal assistance and more financial assistance, and today Astrid and her family have a business, Distribuidora ÁGAPE. The family makes cajeta, a traditional sweet, and markets its "Cajetica" in various flavors.
"HIAS has given me the hope and enthusiasm of placing my product in the Costa Rican market," Astrid said. "They gave us back the joy so that through our work we can move forward, even if we have to start from scratch. Most people think that nowadays you can't work in a formal and honest way, that the opportunities are limited, but you can."
Many more people deserve the chance that Astrid had. The workforce imagined — and guaranteed — by international refugee law, champions the inclusion of all. We all benefit when we all have opportunity.