18 Ways to Support Refugees in 2018
By Gabe Cahn, HIAS.org
Dec 26, 2017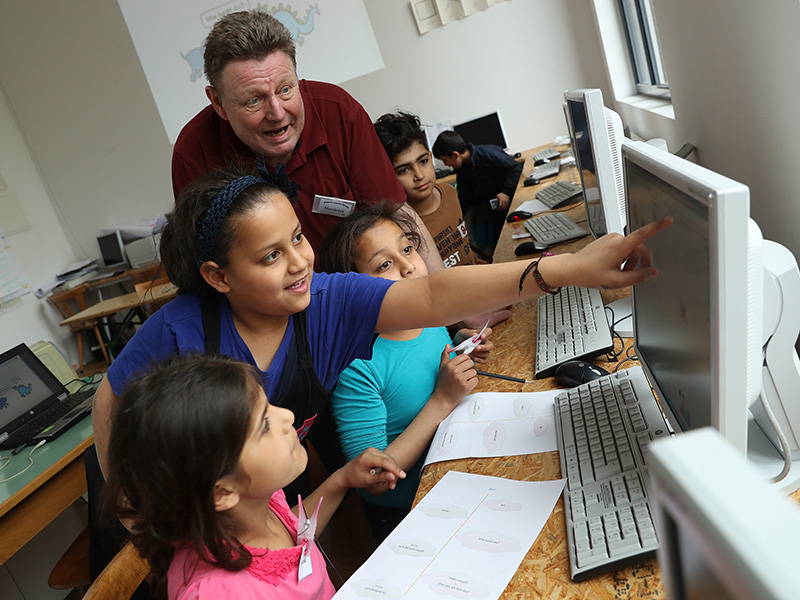 (Sean Gallup/Getty Images)
https://us.e-activist.com/page/5221/action/1In 2017, we learned that when we raise a loud, moral voice in support of refugees, we can make a difference. In the streets, in the courthouses and on Capitol Hill, you showed up for refugees when it mattered most, and in doing so, improved the lives of refugees and asylum seekers in the United States and around the globe.
In 2018, we must continue to do everything in our power to ensure that the Jewish response to the global refugee crisis only grows stronger. No matter what actions the Trump Administration may take to erode protections for individuals fleeing persecution and violence, HIAS and our supporters will always be there to defend the rights of refugees and the United States' legacy of welcome.
Here are 18 ways you can support refugees in 2018:
Get Informed
Learn about refugees. Read about who refugees are, what they're fleeing from, what their options are, and what kind of work is being done to protect and welcome them. For a head start, check out the HIAS blog and resource page.

RSVP for the next HIAS briefing call on January 25, 2018 at 4:00pm EST, to hear from HIAS' senior leadership about the status of the U.S. Refugee Admissions Program, the legal challenges to the Muslim and refugee bans, and the outlook for the global refugee crisis in 2018.

Talk to your friends and family about refugees. One on one interactions can dispel misconceptions and open hearts and minds to the importance of welcome. Download HIAS' guide for engaging with your loved ones about refugees.

Sign up for our e-mail list and follow HIAS on Facebook, Twitter, and Instagram for a stream of refugee-related news and stories.

Join the Jews for Refugees Facebook group, an online network of people taking action for the safety and dignity of refugees around the world.

Educate the next generation about refugees. Print and use HIAS' new children's book about making new friends: Rosie and Warda and the Big Tent.
Show Up
Take Action
Be an Advocate
Contact your representatives in Congress and urge them to do more to protect refugees in the upcoming year. Click here to call your members of Congress, and click here to write to them. We encourage you to do both!

Organize a meeting with your local, state, or federal officials to tell them about your support for refugees and ask them to take a public stand. Contact HIAS staff to learn more about organizing a meeting.

Write a letter to the editor (LTE) in your local newspaper defending the United States' tradition of welcoming refugees. Contact HIAS staff if you're planning to write a letter.
Each of our actions can have a deep and lasting effect on the lives of human beings fleeing violence, genocide, and terror. In the months ahead, we know refugees will remain under attack. Together, we must continue standing up and fighting back.