16 Days Campaign Calls for Elimination of GBV
By Sharon Samber, HIAS.org
Nov 25, 2020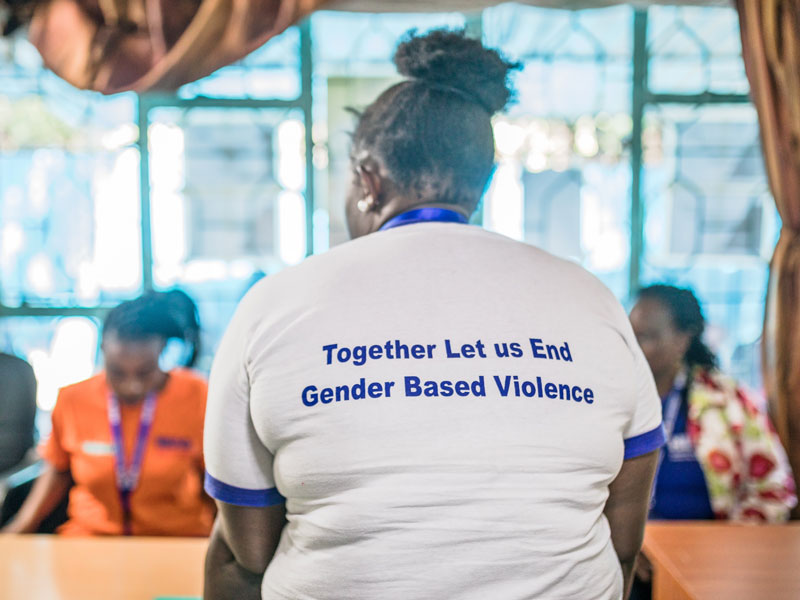 (Brian Otieno for HIAS)
Home is not always the safest place for women.
COVID-19 has had a devastating impact on women and girls. The restricted movement and social isolation measures meant to contain the virus are also fueling an exponential rise in gender-based violence, or GBV. Many women are being forced into "lockdown" at home with their abusers, and this prevents them from seeking safety elsewhere.
The annual international 16 Days of Activism campaign begins this week, calling for the prevention and elimination of violence against women and girls. HIAS is already confronting the compounded difficulties of working to help survivors of GBV as the global pandemic shows no signs of abating.
"Reducing the risk of violence and prioritizing the needs of survivors, the majority of whom are women and girls, is a priority for HIAS' programs around the world," said Heidi Lehmann, HIAS' senior director of gender and GBV programs.
Lehmann noted how HIAS has changed to adapt to the situation: in Kenya, HIAS expanded its hotline services to meet the increased needs of survivors of sexual and domestic violence; HIAS Panama created virtual support groups as a way to combat the isolation that can come with abuse; and HIAS is using a public-private partnership with Airbnb in Peru to provide emergency housing for survivors fleeing potentially lethal relationships.
HIAS staff members have found that women victims of violence who still live with their abusers struggle to even find the privacy to talk about what has happened to them. Additionally, life-saving care and support to women who experience violence has been disrupted in health systems overburdened with COVID-19 cases, according to the United Nations.
HIAS has launched a 16 Days social media campaign and continues to work with communities to reduce risk, increase support for survivors, and build partnerships with women-led organizations that promote and protect the rights of survivors.
HIAS is a partner of Girls Not Brides, which joins together more than 1,500 civil-society organizations committed to ending child marriage. As the 16 Days campaign tries to raise awareness of the issues facing women and girls, Girls Not Brides and the U.N. highlighted:
Globally, 12 million girls are married before the age of 18 every year

In Latin America 25 percent of girls marry or enter into civil unions before the age of 18

200 million women and girls have undergone female genital mutilation
The 16 Days campaign begins Nov. 25, the International Day for the Elimination of Violence against Women, and runs until Dec. 10, Human Rights Day.
HIAS is proud to join organizations around the world in ending what has been called the "shadow pandemic" of gender-based violence, Lehmann said.