1,500+ Rabbis Urge U.S. to Keep Doors Open for Refugees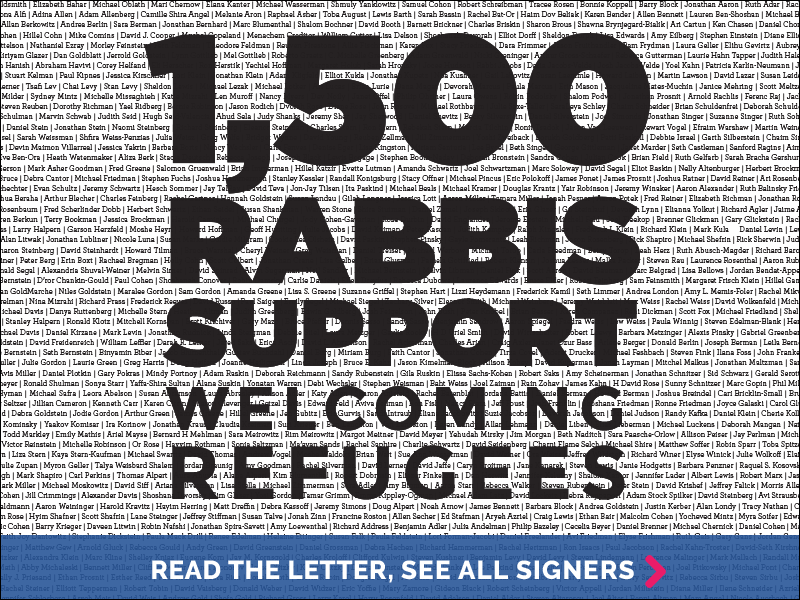 During challenging times, we often turn to spiritual leaders for guidance.
Just two days before the inauguration of our next president, rabbis from across the United States have joined together to express support for welcoming refugees to this country, no matter their religion or ethnicity.
More than 1,500* rabbis have joined with HIAS to send this message, signing a powerful letter to elected officials calling on the United States to keep its doors open to refugees.
"With so many Jewish spiritual leaders stepping up and speaking out for refugees, we at HIAS are humbled and inspired by the response of the American Jewish community," said HIAS CEO and President Mark Hetfield.
Rooted in the historic experience of the Jewish community, and in recognition of the moral crossroads this country now faces regarding its treatment of refugees and asylum seekers, the letter is a major statement from American faith leaders.
The letter, signed by rabbis from 48 states, reads in part, "Jewish history bears witness to the critical choice facing our country: whether to rescue those in need or to construct barriers to keep them out. Jews have seen America at its best, and we know what it looks like for our country to provide the chance at a new beginning."
"What if the whole purpose of the Exodus story was to teach me: you've been there," asked Rabbi Jill Maderer of Congregation Rodeph Shalom in Philadelphia, who added her name to the letter. "I am no different from the refugee."
Rabbi Moni Alfa, senior rabbi at Congregation B'nai Israel in Sacramento, added "as the daughter of an Iranian Jewish immigrant I am forever grateful that this country opened its doors to my family after the Iranian revolution, providing them with a safe haven at a dangerous time. How could I close my heart to others who seek the same things, freedom and safety, that my family needed?"
Rabbi Maderer and Rabbi Alfa's synagogues are both among more than 250 members of the HIAS Welcome Campaign, a foundational element of the growing movement in the American Jewish community to support refugees. Launched in May 2015, the campaign is a nationwide grassroots initiative empowering congregations to take action, raise awareness, volunteer, and provide direct assistance to refugees in response to the global refugee crisis.
"The leaders of our community have joined together to demonstrate the American Jewish community's steadfast commitment to the safety and dignity of refugees," commented HIAS Vice President of Community Engagement Rabbi Jennie Rosenn. "Jewish tradition teaches that every person is created in the image of God, and that we should welcome the stranger with respect and compassion. The outpouring of support from more than 1,500 rabbis, working alongside other faith and non-sectarian partners to stand up for refugees, comes at a critical moment."
The full text of the letter and complete list of signers can be found at www.hias.org/1500rabbis.
*Note: 1,708 signers as of 1/24/17.