UN High Commissioner: Syrian Refugee Crisis Must Be "Managed"
By Rachel Nusbaum, HIAS.org
Oct 28, 2015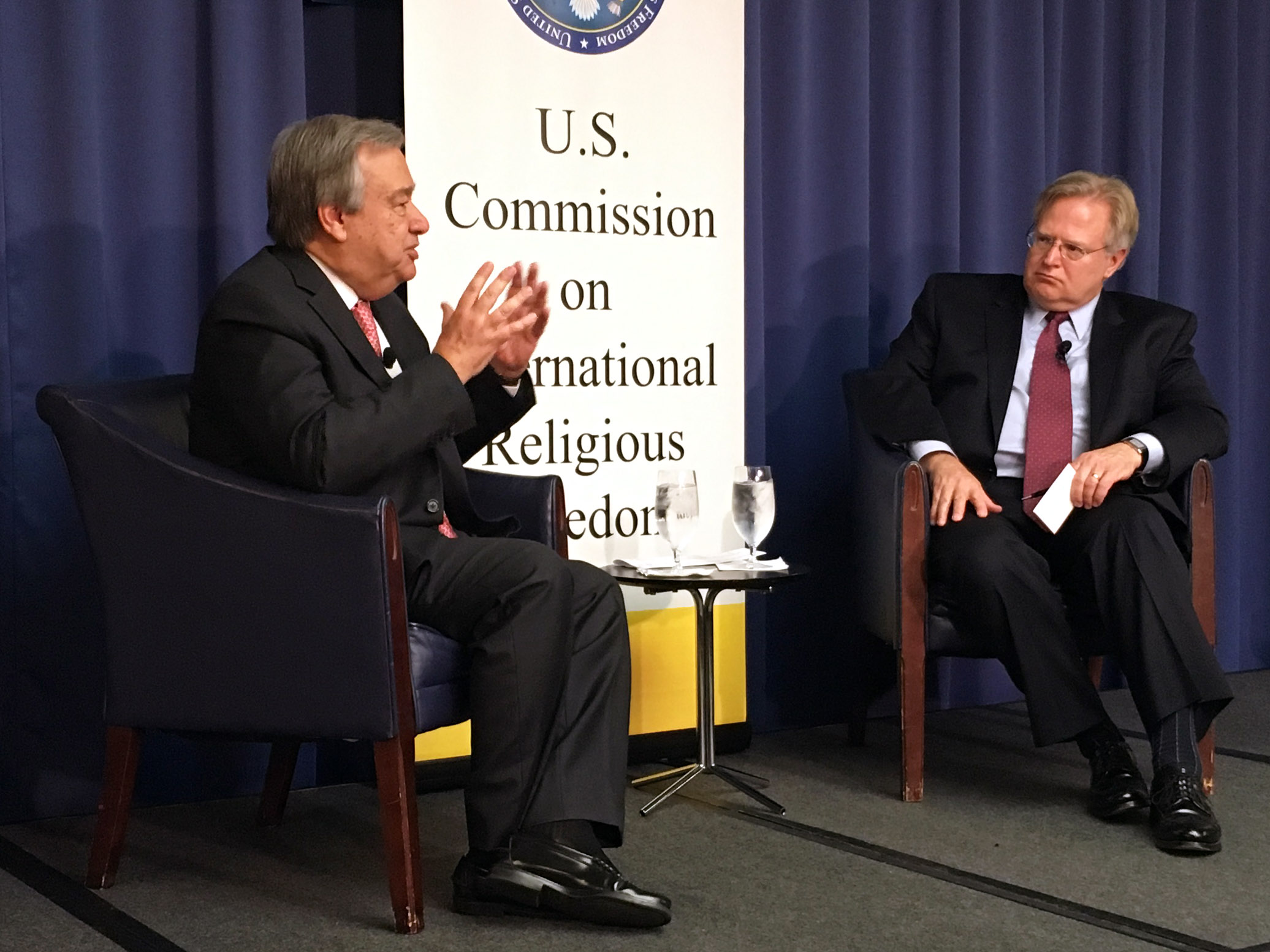 (Rachel Nusbaum/HIAS)
It's hard to imagine now, but ten years ago, the number of refugees worldwide was actually decreasing and the U.N. refugee agency was able to help a million people per year go back home. Today, that number has fallen to 126,000 annually. Meanwhile, the number of newly displaced has risen year after year.
That's because new conflicts are constantly emerging "and the old ones seem never to die," António Guterres, the U.N. High Commissioner for Refugees, told the audience at the National Press Club in Washington, D.C. on October 27. The result, Guterres said, has been that even as "suffering [and] humanitarian needs are on the rise...the capacity to respond is no longer there."
The event, which focused on the global response to the Syrian refugee crisis, was hosted by the U.S. Commission on International Religious Freedom.The discussion covered a broad range of topics, from the need for more development aid to support countries like Lebanon and Jordan who are hosting large numbers of Syrian refugees, to the specific protection needs of religious minorities such as the Yazidi.
On Europe's response to the crisis, Guterres said that this is a manageable problem, but "there is one condition for a problem to be manageable -- it must be managed." He pointed out that the E.U., with its 500 million inhabitants, has actually received fewer Syrians than are currently being hosted by overwhelmed Lebanon, where one in five people is a refugee. "This idea that this is an invasion, that the flow is uncontrollable" is a result of Europe's failure to decide on a coordinated, orderly approach to the situation. Instead, "everything has been done too little, too late."
In contrast, Guterres expressed his admiration for the "bipartisan commitment" to refugee protection and resettlement in the U.S., calling it "essential to preserve". He also noted that if someone wanted to come and do the U.S. harm, "the most stupid thing would be to apply for resettlement in the U.S." because of the level of verification refugees undergo before being accepted for resettlement here.
Click here to watch a video of the entire conversation.