Special Edition Podcast: The Fall of Afghanistan
By Sharon Samber, HIAS.org
Aug 27, 2021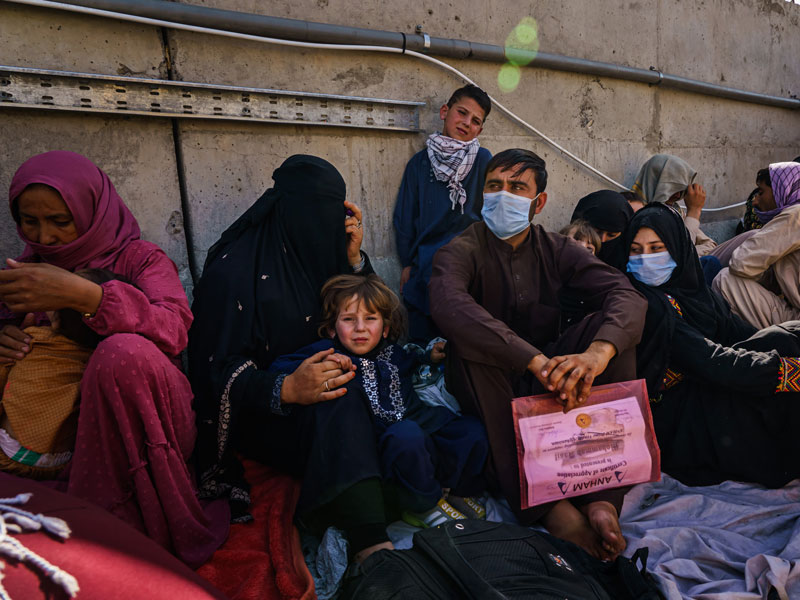 (Marcus Yam/Los Angeles Times)
For the past few weeks, Yalda Afif, an Afghan program officer for HIAS in New York, and Bahar*, a resettled Afghan refugee who now volunteers for the organization, have fielded scores of phone calls from family, friends, and others in Afghanistan, desperate for help as the country quickly fell to the Taliban.
For this special episode of our Crossing Borders podcast, journalist Rhoda Metcalfe spoke with the two HIAS workers, who have listened to the anguished pleas of their countrymen, fearful of getting trapped along with thousands of others at the end of a 20-year war.
"There's a client, her family is close to the airport… so basically, they hear gunfire like every other minute," Afif said. Because the father worked with the U.S. military, the family has a right to come to the U.S. but, Afif explains, because there is so much gunfire the father is too scared to risk the lives of his three young girls to try to escape. The U.S. government has said it will do its best to get people out, but offers no guarantees. It remains the individual's responsibility to get to the airport.
The situation is made more complicated, Afif explained, by the Americans' deliberate destruction of documents when they left the U.S. Embassy in Kabul. Many passports were burnt along with application papers and proofs of visa eligibility. Those painstakingly accumulated documents have been replaced by a complicated Google form in English. And completion of the form offers few guarantees.
Bahar was teaching constitutional law and comparative constitutional law in Afghanistan and was an outspoken critic of the Taliban's constitutional vision and their treatment of women and minorities. He started to receive serious threats but made it to the U.S. safely. As he did, other young academics went to U.S. colleges like him but then returned to Afghanistan to teach democratic concepts. They are now in danger.
Bahar believes that the refugees struggling to escape are the best of the new generation of Afghanistan. "I think most of those who are leaving the country at this point will remain engaged in one way or the other. And I'm sure that most of them will be happy and willing to return at a time, at a safer time, to continue to do the things that were interrupted."
*Pseudonym used for safety reasons.
Listen and subscribe to HIAS' Crossing Borders podcast today via Apple Podcasts, Spotify, Stitcher or wherever you get your podcasts. Crossing Borders is produced for HIAS by Bruce Edwards, Global Audio Productions.