From Brooklyn to the Bronx, a Manhattan Synagogue Spreads Welcome on Thanksgiving
By Rachel Nusbaum, HIAS.org
Nov 22, 2016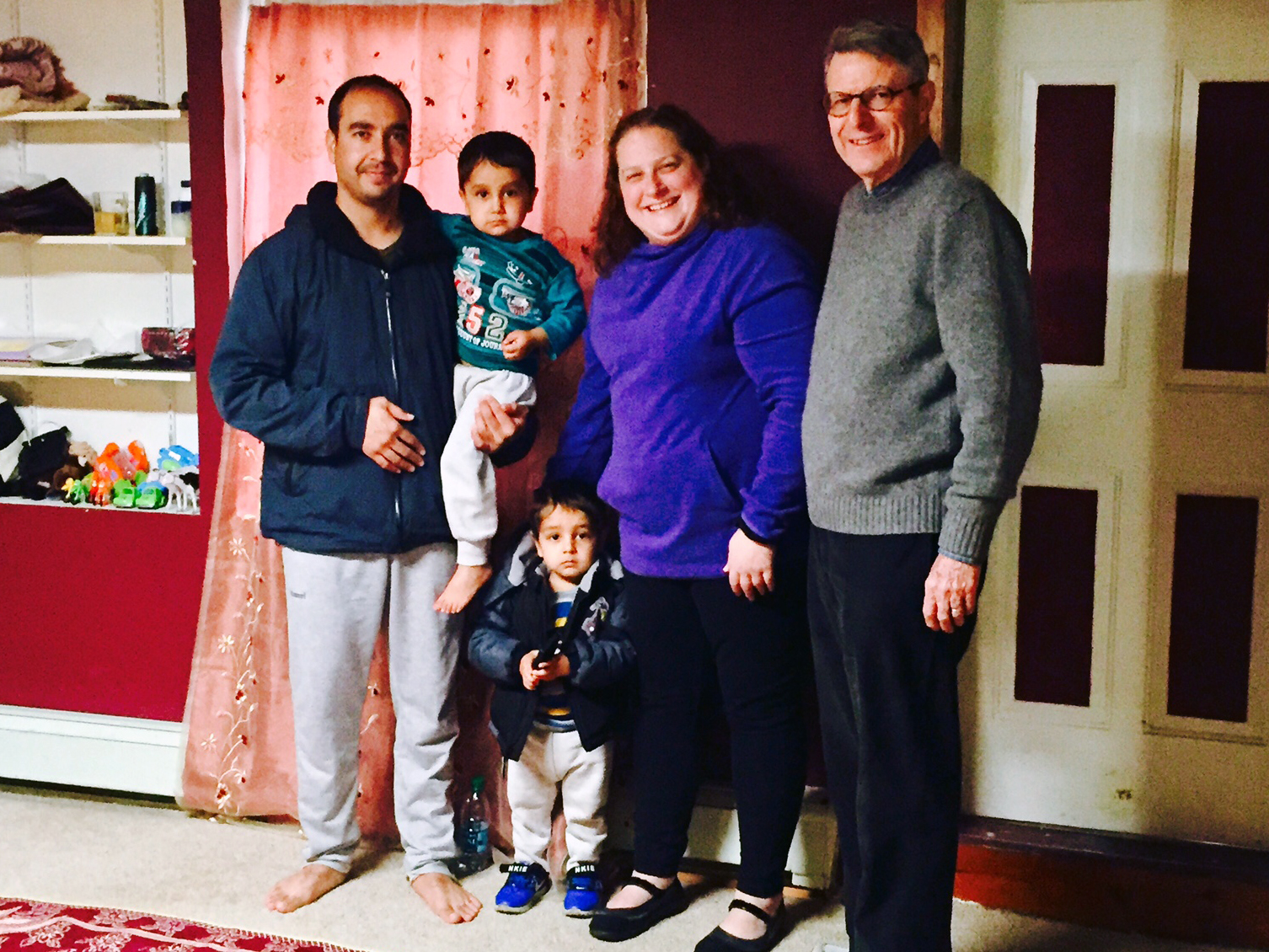 (Yalda Afif/HIAS)
Early Sunday morning, Charlie Blank and Jenn Corker left Brooklyn and set off for the Bronx. A halal turkey, purchased in Bay Ridge, Brooklyn, sat in a cooler on the back seat.
Blank and Corker are members of East End Temple, a Reform Jewish congregation in Manhattan. The East End social justice committee has been working closely with HIAS to find ways to support, and advocate on behalf of, refugees—including signing up to volunteer with HIAS in New York.
On this particular Sunday, their commitment to welcome meant sharing an important American tradition with a refugee family from Afghanistan: Thanksgiving.
"I was very happy to be able to help a family of refugees celebrate their first Thanksgiving," Blank told HIAS.org. "In these dark weeks after the election, with all the harsh rhetoric about immigrants and refugees, it is especially satisfying to be a part of a more positive response to people whose stories reverberate with the stories of our own Jewish immigrant and refugee families from earlier times."
The synagogue volunteers met the Hotak family, and their case manager, at family's home—a sparse but pleasant basement apartment. The father, Turyalai, had been a translator for the U.S. military in Afghanistan and very much at ease speaking English. The mother, however, arrived in the U.S. with her children only two months ago, and doesn't speak English yet, while their two young, preschool sons speak only a little.
In addition to the turkey, the group brought Thanksgiving cards made by students in the East End Temple religious school. Blank and Corker prepared a description of the Thanksgiving holiday and its traditions based on the USCIS materials for immigrants studying to become citizens. Being true New Yorkers, they also arrived with a copy of the New York Times. "The recent Food section gave descriptions of how 15 families of different ethnic, religious, and geographic backgrounds celebrated Thanksgiving in the United States—with recipes included," Blank explained.
The East End Social Justice Committee provided funds to take the family on a Thanksgiving shopping trip. Blank, Corker and HIAS New York Case Manager Yalda Afif took the family to a nearby supermarket to stock up on Thanksgiving essentials: sweet potatoes, green beans, cranberry sauce, pumpkin pie, and more. "Our caravan headed back from the supermarket with a very full shopping cart," Blank said.
Back at the apartment, the family offered them tea and apple pie, and they had a chance to discuss the meaning of Thanksgiving and their thoughts about the upcoming holiday.
It's a relationship the volunteers, and their synagogue, plan to continue building on, starting by collecting needed clothing and household items from their synagogue for the new arrivals.
Corker also felt the visit was a success. "The family were lovely, open, and warm. We enjoyed spending time with them," she told HIAS.org.
"Nearly 100 years ago, in 1917, my own great-grandfather came to New York from Poland with only the possessions he could carry. He, too, had help getting settled, and about a year later my great-grandmother followed him," Corker said. I am so glad that through HIAS, East End Temple and I can extend that same generosity to a newly resettled family."
"It was a delightful visit, and I can't wait to hear how their first halal Thanksgiving turkey came out!" she added.