Deciphering the Recent Threats to Asylum in America
By Rebecca Kirzner, Director of Campaigns
May 31, 2018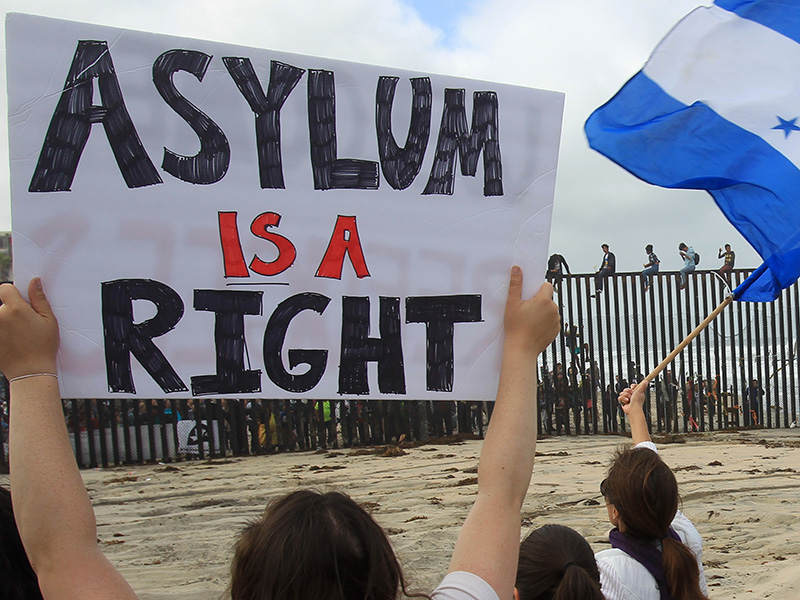 (Bill Wechter/Getty Images)
The heartbreaking stories of children separated from their parents at the U.S. border have caught the attention of the country. This post provides background and context for these policies and many others affecting individuals seeking asylum in our country.
Separating children from their parents. Prolonged detention in jail-like conditions. Extended wait times with no court hearing. Legal proceedings without adequate representation or interpreters.
In and of themselves, these policies are cruel.
Separating immigrant children from their families, especially those who are suffering from trauma following physical persecution, torture, and threat of death in their home countries, is a form of torture itself. This cannot be what the United States stands for. Disturbingly, it is only one of dozens of new policies that target people seeking asylum in the United States.
Earlier this month, Attorney General Jeff Sessions announced a "zero tolerance" policy targeting immigrants, many of whom are asylum seekers. This new policy includes separating children, some as young as 18 months, from their parents. It also includes criminal prosecution of adults who are apprehended crossing the border away from official ports of entry. The Administration's stated purpose for the harshness of this policy is to deter Central Americans from coming in the first place.
However, the process that an individual must undertake to apply for asylum in America has always been taxing. What's different under the current administration is a profound escalation in inhumane treatment of asylum seekers, ramped up rhetoric, and attempts to make access to asylum as difficult as possible. This is causing anxiety in many of HIAS' clients, who fear they can no longer live safely in the U.S.
Even in the face of these incredible obstacles, families continue to leave everything behind in search of the chance at safety in this country, because they come from countries where their governments can't or won't protect them.
Asylum seekers at the U.S. border are largely Central Americans fleeing Guatemala, Honduras, and El Salvador, which are amongst the world's most violent countries. Asylum seekers are often are under such severe risk that they take the first opportunity they can to get out of their homes, fleeing in the middle of the night, avoiding police and staying in hiding until boarding a flight or bus to cross a border.
Applying for asylum is a legal process. Asylum seekers have to show they fled their home countries due to well-founded fears of persecution based on race, religion, nationality, political opinion, and membership in a particular social group.
This is the same legal definition as a refugee; the key distinction is that asylum seekers begin the legal process of securing safety after they have arrived in the United States, whereas refugees who are resettled by the U.S. government arrive with their status already adjudicated.
Offering protection to those seeking asylum has been a mainstay of U.S. and international law for decades. It is not illegal to come to the United States and ask for asylum.
In fact, international protections for asylum seekers were established directly after the Holocaust and the failure of the international community to provide the right to flee. To deny that right today would constitute a legal and moral failing of our government.
To learn more about how the asylum system works and HIAS' role in protecting asylum seekers, listen to a May 24 HIAS briefing featuring HIAS President and CEO Mark Hetfield, Senior Vice President for Public Affairs Melanie Nezer, HIAS Legal Fellow Rebecca Balis, and Director of Campaigns Rebecca Kirzner.
As a refugee agency, HIAS has always stood up for the protection of asylum seekers, and currently does so through both advocacy and free-of-cost legal representation.
Our legal team maintains a 99% success rate in immigration court representing clients in their asylum claims. They have won safety for Denia, an Afro-Indigenous woman who escaped domestic violence in Honduras, Elizabeth, a Salvadoran woman reunited with her son after being forced to leave him behind with her mother, and Yaasir, a Somali man persecuted due to his tribal affiliation who had been detained for over a year in Maryland.
In addition, in April, HIAS joined the legal fight against opposing the restriction of established asylum grounds that would affect domestic violence victims, as well as victims of religious persecution perpetrated by private actors, filing an amicus brief to the Department of Justice, together with the Catholic Legal Immigration Network, Inc., Lutheran Immigration and Refugee Service, National Council of Jewish Women, World Relief and several other organizations.
The American Jewish community has stood together with HIAS in support of welcoming refugees to the United States, and in opposition to policies that attack both the asylum program and the refugee resettlement program, which is currently on pace to welcome the fewest refugees in its history,
As the administration continues their attacks on refugees through cruel and harsh treatment of asylum seekers at the border, we as a community will again stand together, guided by our Jewish and American values and history.
Join us in taking action.
1) Contact your elected officials to ask them to stand for the protection of asylum seekers.
2) Join the June 14 Day of Action on family separation. There will be dozens of rallies and vigils all over the country, from Brooklyn to Chicago to Los Angeles. You can print "Refugees Welcome" signs here.
3) Volunteer with asylum seekers served by HIAS (opportunities predominantly in NYC and Washington DC)
4) Donate to support HIAS in providing free-of-charge legal representation to hundreds of asylum seekers.