Recent Supreme Court Decisions Erode Migrants' Rights
By Ayelet Parness
HIAS.org
Jun 27, 2022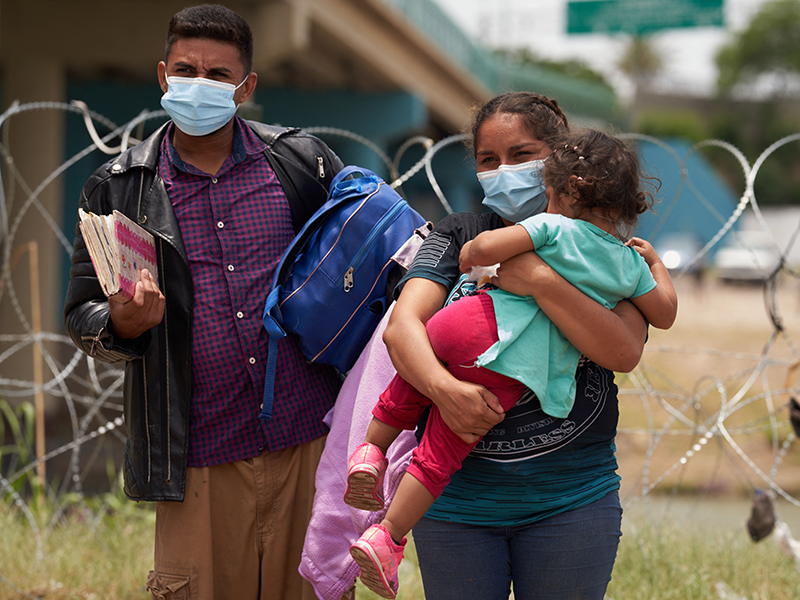 Within the next week, the Supreme Court will release a decision on Biden v. Texas, the case that will determine the fate of the "Remain in Mexico" program — formally called the Migrant Protection Protocols – that forces some asylum seekers arriving at the U.S.-Mexico border to await their U.S. immigration proceedings in Mexico. HIAS shared stories of clients impacted by Remain in Mexico as it joined 61 organizations in contributing to an amicus brief supporting the ending of the program.
In June 2021, the Biden Administration attempted to end this program, under which people awaiting asylum hearings must wait in Mexico, often in dangerous areas where they are frequently targets of violence and cannot access legal representation. However, the administration resumed a modified version of the program in December 2021 in response to a federal court order.
Yet even as refugee advocates anxiously await the outcome of Biden v. Texas, a spate of recent decisions by the Supreme Court have harmful implications for migrants, including those seeking asylum in the U.S. 
In two key decisions, Johnson v. Arteaga-Martinez and Garland v. Aleman Gonzalez, the Supreme Court ruled that noncitizens do not have the right to a timely bond hearing when being detained while seeking relief from deportation orders.
In Johnson v. Arteaga-Martinez, the court ruled that Antonio Arteaga-Martinez, a Mexican citizen who was detained for re-entering the U.S. after being removed under an immigration judge's order, was not entitled to a bond hearing after 6 months, as a lower court had ruled. 
The court's opinion notes that Arteaga-Martinez had expressed fear of persecution if returned to Mexico, as he said that he re-entered the U.S. in 2012 after being "beaten violently by members of a criminal street gang." He was then detained as the courts decided whether or not his claim prevented him from being returned to Mexico – a process that can take months to years.
"This decision shows how much the Supreme Court is out of touch with the reality of ICE's long-documented record of abuse, neglect, and death in its detention centers," said HIAS Staff Attorney Shayan Davoudi. "The court considered this case very narrowly; in doing so, it missed the opportunity to address the constitutionality of prolonged detention of noncitizens, which in effect opened the door for ICE to indefinitely detain certain immigrants."
Similarly, in Garland v. Aleman Gonzalez, the Supreme Court ruled that immigrants cannot seek injunctions to stop prolonged detention or challenge deportation practices as a class action, because federal immigration law prohibits injunctions issued to protect a whole class. The precedents set by these two cases erode the rights of those seeking to enter the U.S. by allowing ICE to detain them without a hearing for a prolonged amount of time.
"These immigrants have come to the United States seeking safety from persecution, opportunity, and better lives for their families," said Smita Dazzo, HIAS' senior director of legal and asylum. "Instead, they face violations of their right to due process in the U.S. court system."
The court also set a precedent that makes it nearly impossible to sue border agents for constitutional violations with its ruling in Egbert v. Boule. Robert Boule, owner of a bed-and-breakfast near the U.S.-Canada border, sued U.S. Customs and Border Protection agent Erik Egbert for violating his constitutional rights after Egbert entered his property without a warrant to investigate a guest.
When Boule asked Egbert to leave, the agent threw him to the ground, injuring him. Boule reported Egbert's actions to his superiors, and the agent allegedly retaliated by reporting Boule's business to the IRS and other agencies. The court ruled against Boule, holding that individuals cannot sue individual federal agents for Fourth Amendment claims of excessive force or First Amendment claims of retaliation.
Finally, in Patel v. Garland, the Supreme Court held that federal courts do not have the jurisdiction to review factual findings made during immigration proceedings related to granting discretionary relief from removal from the U.S.  — a category which includes asylum hearings. That means even if the immigration judge or the Board of Immigration Appeals make a glaring error when denying someone's request for permanent residency, federal courts are unable to remedy it.
In this case, Pankajkumar Patel applied for a discretionary adjustment of his and his wife's status, which would allow him to obtain permanent residency. An immigration judge ruled that he was ineligible because when he applied for his Georgia drivers license, he checked a box indicating that he was a U.S. citizen. In his appeal, Patel argued that this was an error rather than a deliberate misrepresentation.
In his dissent, Justice Neil Gorsuch — joined by Justices Stephen Breyer, Sonia Sotomayor and Elena Kagan — wrote: "Today, the Court holds that federal bureaucracy can make an obvious factual error, one that will result in an individual's removal from this country, and nothing can be done about it."
All these decisions arrive on the heels of Arizona v. CDC, in which a federal judge in Louisiana issued an injunction against the Centers for Disease Control and Prevention ending Title 42, a World War II-era public health order that has blocked people from seeking asylum at the U.S.-Mexico border for over two years, ostensibly to prevent the spread of COVID-19. HIAS also contributed to an amicus brief in this case in support of ending this policy. The debate over ending the Title 42 order continues in the courts and in Congress.
"These court rulings are part of a worrying trend of legal decisions and legislative actions that stack the odds against people looking for safety in the U.S., while doing nothing to make asylum and other immigration processes more efficient, orderly, or secure," said Naomi Steinberg, HIAS' vice president for U.S. policy and advocacy. "They just make getting a fair shot harder."