Parents With Disabled Children Find Support from a HIAS Partner in Poland
By Betsy Joles
For HIAS.org
Jul 22, 2022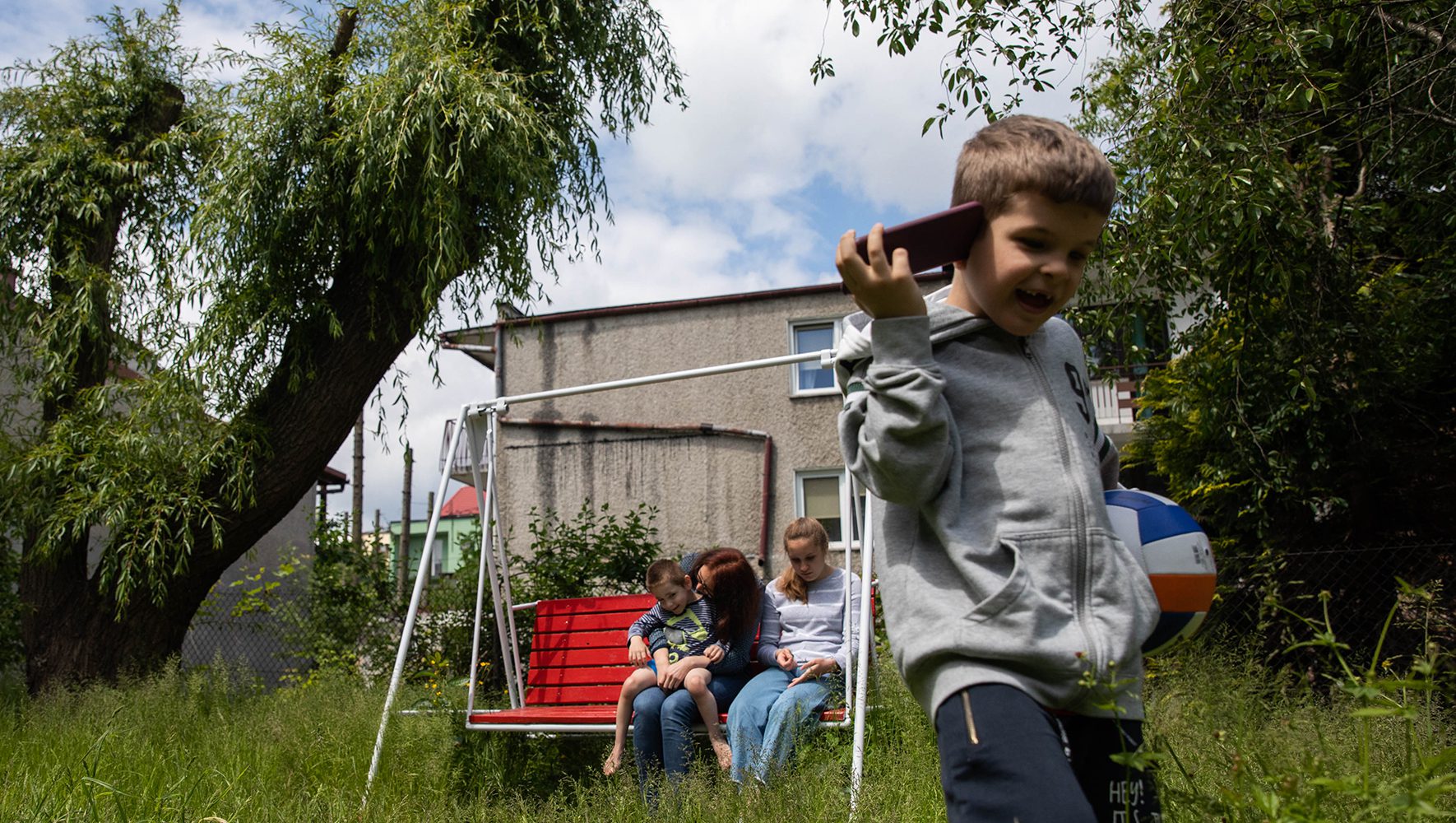 KRAKOW – Keeping an autistic child at ease amid the din of war was difficult enough, but it was an explosion in early March which made their house shake, that finally convinced Galina Mitrofanova to take her 6-year-old son Makar out of Ukraine.
Food in the shops was gone and Mitrofanova, 33, worried that the extended disruption of her son's routine would send him into a frenzy. "I was scared for him too, how he'd survive this, how he'd take this," Mitrofanova said. "Once we were outside, he couldn't understand what was going on." She gathered a few belongings and set off toward the Polish border with her son.
According to the European Disability Forum, there are 2.7 million people with disabilities in Ukraine, some of whom have fled to neighboring Poland, where a network of organizations on the ground is helping them adjust. Among these organizations are Stowarzyszenie Patchwork (Patchwork Association) and L'Arche, which are working in tandem to house and support Ukrainian families of people with disabilities, with financial backing from HIAS.
Since the war began, Patchwork has offered ground support for new arrivals from Ukraine, providing everything from housing and food to documentation advice and emotional support. Maria Bukhanovskaia, a special education teacher from Russia and Patchwork's founder, said she and her colleagues want to provide newcomers with the same support network they've built over the years. "It is very important that we make a community of these families, and they are under our care," she said.
Caring for new arrivals from Ukraine has turned into a full-time job for the six women of Patchwork. They are all immigrants from Russia and Ukraine and five of them are mothers of disabled children. Over the past four months, they've opened their homes to people who didn't have a place to stay and organized transport to ferry people from the Ukraine-Poland border – all while taking care of special needs children of their own.
Patchwork co-founder Khrystyna Rudenko has learned how to adapt as an immigrant in Poland through trial and error while caring for her 19-year-old daughter Sonia, who has cerebral palsy and epilepsy. Since Rudenko and her husband Artem first came from Ukraine to Poland, they have navigated every part of the Polish bureaucracy to secure disability benefits for their family, as well as the medical system to address various health concerns for Sonia as they arise.
This experience and those problem-solving skills have proven indispensable in helping new arrivals who are not only adjusting to displacement but trying to figure out how to register in a new system to get the extra medical care and educational support their children require. "We know how it works. Because I remember how extremely difficult and disorienting it was in the beginning," Rudenko said.
Since Patchwork is a new organization, Rudenko said it has collaborated closely with Polish counterparts, including L'Arche, Special School Nr 11, School without Barriers and Ognisko Association. Patchwork connected with HIAS through L'Arche, which has operated in Poland since the 1980s, with a mission of creating a community for people with disabilities through co-housing, training, activities, and organizational support.
"For the families to make a decision to move, to leave their own country, house and make this journey was a very difficult decision," said Agnieszka Karolak, the national leader for L'Arche in Poland. During the war, the organization has helped organize transport from Lviv, in Western Ukraine, and hosted multiple families, including Mitrofanova's, in their houses in Wieliczka outside of Krakow.
Zoia Ryzka and her husband, another family at a L'Arche house, have been able to find some sense of stability there for their son Ilia, who has cerebral palsy and autism. Ilia had undergone spinal surgery shortly before the war and they worried it wouldn't heal properly under such precarious conditions.
"He took being in a bomb shelter very badly, he had terrible tantrums, and his health was getting worse too," Ryzka said. "Besides, we were running out of epilepsy pills, we couldn't buy them anywhere, they just disappeared. Mothers of kids with similar problems were willing to share some, to give what they had – but I understood it was impossible."
Ryzka's family lives with Mitrofanova and Makar and a Ukrainian staff member from L'Arche, Halina Vilkhovska, who has helped new arrivals get settled. She said many parents who have fled feel as if they can't ask for help with housing and other needs. "It was very difficult to convince them that they can," Vilkhovska said.
After watching her country devolve into chaos from afar, Vilkhovska said sharing the experience with other people from Ukraine and processing the events as they unfolded has also been important for her. "I don't know if I was helping them, or they were helping me."
The complications that come with immigrating to a new country are multiplied for families with disabled children, who often require round the clock care. Patchwork members physically accompany families to complete administrative tasks, like applying for tax numbers. They act as translators and provide insight from their own experiences going through the same process years ago.
During a visit to a house in Krakow, Rudenko helped advise Ukrainian mother Iryna Zelenytsia, whose 5-year-old daughter Anastasiia has autism. Among the challenges Zelenytsia has faced is trying to decipher documents she has received in the mail written in Polish. "They're asking for a disability document – but I don't understand if they need a Ukrainian one or a Polish one," Zelenytsia said.
Patchwork members have also provided families with information about the special education system, which has given their children opportunities they didn't have in Ukraine or Russia. Rudenko said Sonia's Polish teachers taught her to hold a spoon in a matter of months, which she could never do before. They've nurtured her ear for music and encouraged her knack for imitating bird calls. She is affectionately called "Seagull" at school.
Maryna Yefremova, another Patchwork co-founder, came from Lviv to Krakow with her husband Roman and their 14-year-old daughter Valeriia, who has Down syndrome. They decided to relocate to seek better educational opportunities for Valeriia, who remained in the same kindergarten class until she was eight.
"This system in Ukraine is very weak. There're some experts [and] professionals but you have to look hard for them to find them, and they are few and far between. When we started to talk about inclusion, it pretty much stopped there – just some talking," Yefremova said.
Patchwork has used HIAS support to cover two months of rent for new arrivals in need, the cost of Ukrainian-Polish notarized translations of the paperwork for obtaining Polish disability certificates, and the cost of dental treatment under general anesthesia of children with autism.
HIAS' donation has also made it possible for Patchwork to open an office and integration and support center where they can run workshops for parents of children with disabilities and provide rehabilitation for children."Thanks to this [collaboration] we can help [many] more people," Rudenko said.