Marking El Paso Shooting Anniversary, Continuing Work for Survivors
By Sharon Samber, HIAS.org
Aug 03, 2020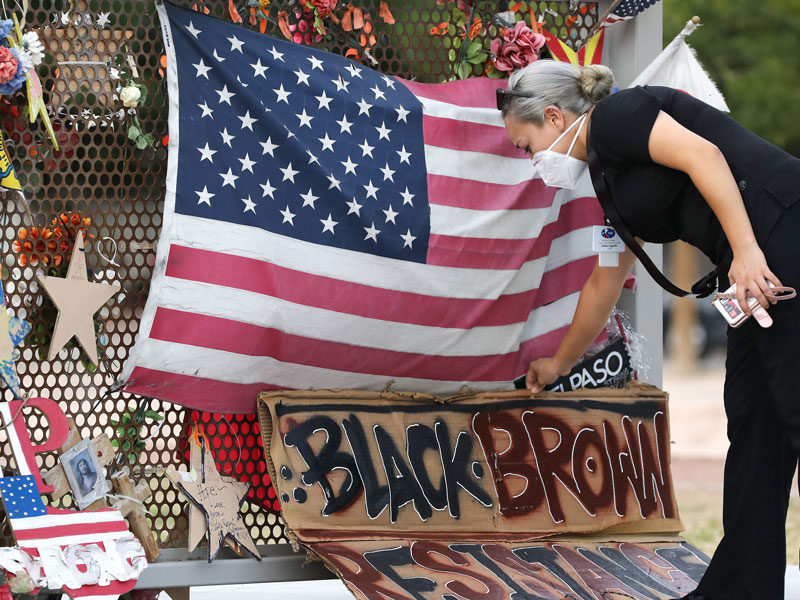 (Mario Tama/Getty Images)
When a white supremacist murdered 23 people at an El Paso, Texas, Walmart exactly one year ago, the country reeled in shock. The mass shooting was the deadliest act of terror against the Latino community in modern American history.
This particular Walmart, located at the U.S.-Mexico border, is frequented by U.S. residents and Mexican citizens alike. There were thousands of people in the store that day, and the effects of the shooting reached far and wide. News reports over the past year show that many in El Paso are still struggling with the shooting's aftermath, and HIAS continues to work on behalf of some of those directly affected by the murders.
HIAS, which has several offices in Mexico and border fellows at partner organizations in El Paso, is helping some of the victims and survivors apply for special visas. Non-U.S. citizens at the store that day — whether they were physically or psychologically injured by this horrific crime — may be eligible for "U visas" if they assist U.S. law enforcement in the investigation and/or prosecution of this crime. U visa recipients are permitted to live and work in the U.S. and can apply for lawful permanent residency after three years.
HIAS' partner in El Paso, Las Americas Immigrant Advocacy Center, represents more than 50 clients who are survivors or family members of victims of the Walmart shooting. HIAS' network of pro bono attorneys is supporting these survivors and Las Americas in preparing their claims.
"We are fortunate to have the support of the attorneys at DLA Piper and Kilpatrick Townsend & Stockton, who are providing critical support at this time, screening clients for issues in their claims and preparing the myriad forms required for each individual's application," said Rachel Zoghlin, HIAS' national pro bono technical legal advisor.
"Because there is such a large number of applications needing to be filed within a short period of time, our involvement is essential to getting the work done," said Kilpatrick Townsend attorney Nesli Doran-Civan.
Because of a congressionally mandated cap of 10,000 U visa grants per year, USCIS is currently facing a backlog of petitions. At the end of 2019, there were nearly 152,000 petitions pending, according to the agency. Because of this limit, a survivor of crime in the U.S. who applies for a U visa now will likely wait at least eight years before the visa is granted.
Cristina Torres, a DLA Piper attorney and a native of El Paso, described what this collaborative pro bono project meant to her. "My hometown of El Paso has provided me, the daughter of Mexican immigrants, with boundless love and opportunities to pursue my dreams," Torres said. "HIAS's U visa project was incredibly meaningful as it allowed me to help survivors of this unimaginable hate crime that occurred in my hometown and assure them that they are valued and welcome to pursue their dreams in our communities."