'Am I Going to Make It Until Tomorrow?': A Gay Refugee's Escape from Persecution
By Max J. Rosenthal, HIAS.org
Jun 16, 2021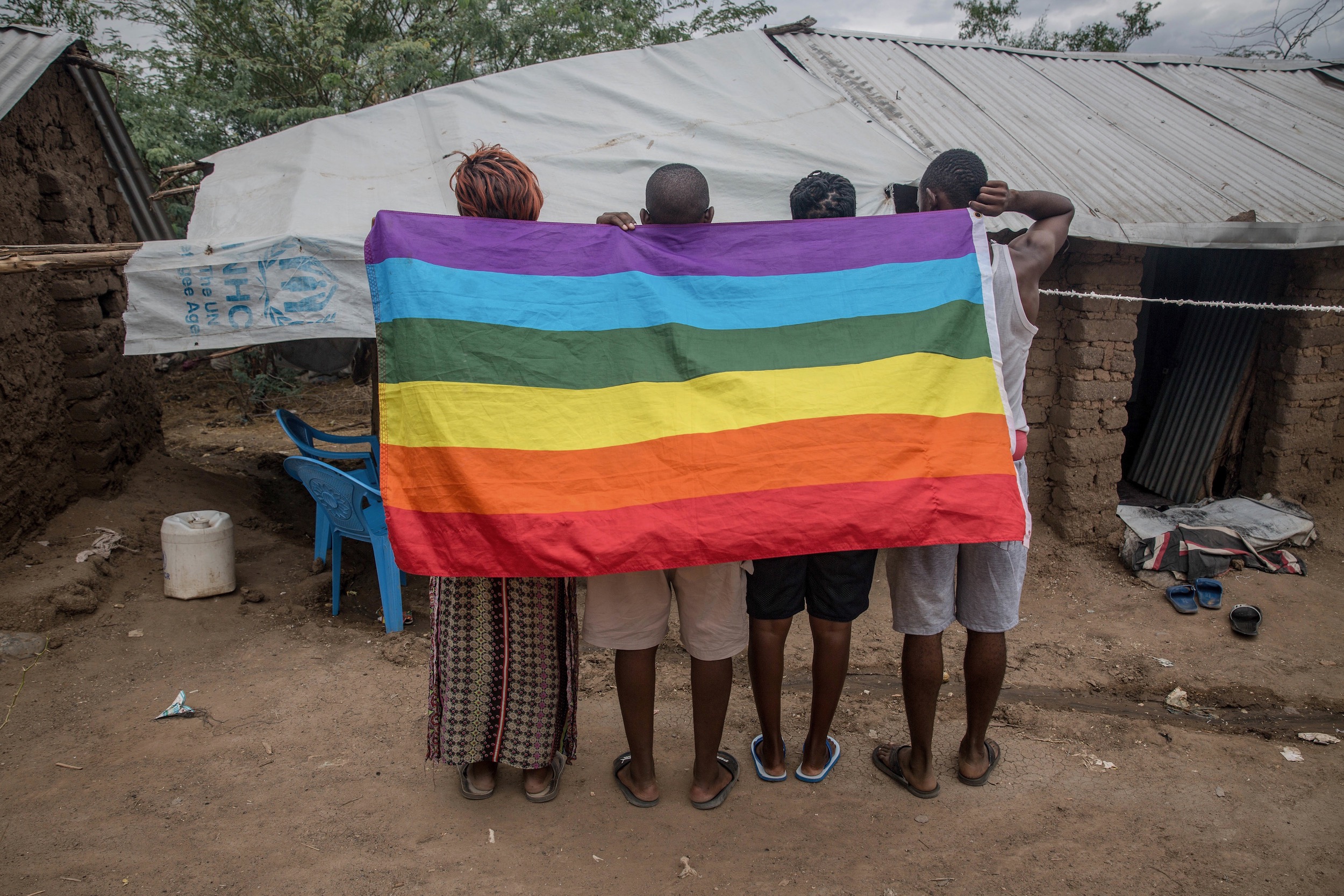 (Sally Hayden/SOPA Images/LightRocket via Getty Images)
When Yusuf escaped his home country, he lost his family. But within minutes of arriving in the United States for the first time, he found a new one.
On Aug. 1, 2014, the young refugee from eastern Africa landed at San Francisco International Airport speaking almost no English and barely able to believe he'd been given the chance to resettle in America. Dazed, he stepped off his flight and followed the other passengers, hoping they would bring him to the right place.
Yusuf* eventually reached baggage claim and found a "beautiful woman" holding a sign with his name on it.
"I ran to her and said, 'Can I hug you?' She said 'Yes.' I hugged her and it just felt like I was hugging my own mother," Yusuf said. "I said, 'I'm going to be your son.' She said, 'Absolutely.'"
As a gay man, Yusuf had been disowned by his family and forced to flee his home to evade the police. For years afterward, he lived as a refugee in Kenya, enduring assaults and constantly fearing for his life: "I just wanted to be in a place where I could just wake up in the morning and don't have to think, 'Am I going to make it until tomorrow night?'"
Now, he finally was.
Yusuf has since rebuilt his life. With the help of HIAS and Jewish Family & Community Services East Bay, HIAS' local partner in the area, he has been able to settle into his new community and, for the first time, live openly as a gay man in safety and dignity. He recounted his story to HIAS as part of our Pride Month celebration of LGBTQ refugees, their resilience in the face of often-deadly challenges, and the work our staff members and partners do to help them succeed.
Escape and Persecution
Yusuf's harrowing journey as a refugee started in 2012, at just 17 years old, after police discovered him with another man. When his distraught mother arrived at the police station several days later to see him, she was told why Yusuf had been arrested. She renounced him on the spot. "'From today, I'm no longer your mother.' ... And she left," Yusuf said.
Details of Yusuf's ordeal are being withheld to protect his identity, but the coming days were spent on the run from the police and his own family, both of whom he feared would kill him. Barely escaping capture at several points, he finally fled by bus to Uganda and then hundreds more miles on foot into Kenya.
He eventually came to a halt, utterly exhausted, in a town called Kakuma. "I couldn't talk," he said, recalling the brutal journey. "I couldn't speak. My legs were swollen. I just couldn't move anymore." A local woman revived him with food and water, and asked if he was a refugee. "I said, 'Excuse me?' No!' … Because where I'm from, when you hear the word refugee, it's an insult," he said.
Nevertheless, the woman convinced him to seek help from UNHCR, the U.N. refugee agency. Without realizing it, Yusuf had arrived at the site of the largest refugee camp in the world, which today houses more than 160,000 people.
Even seeking help came with its own form of trauma. After years of hiding his sexuality — and the pain of his family's reaction — Yusuf could barely bring himself to answer the aid workers' questions. "At the time, I just couldn't trust anyone," he said. "I was afraid to tell anyone what happened to me because they might just kill me."
Sadly, his fears were well-founded. Yusuf eventually told the workers his story and, because persecution based on sexual orientation is one of the reasons people are able to receive refugee status, was allowed to live in the camp. But when other refugees learned he was gay — he was betrayed by another refugee in whom he had confided — he became a target for repeated verbal harassment and serious physical violence. During one attack, Yusuf was stabbed and had to be moved to Nairobi, the capital of Kenya, for medical attention.
Yusuf lived in Nairobi for the next two years, unable to return to Kakuma for his own safety. Life in Nairobi, however, was little better. "In the camp, the only challenge was me being gay," Yusuf said. "In Nairobi, I had to face me being gay and being a refugee at the same time."
Yusuf says he was sexually assaulted in Nairobi on several occasions and attempted to take his own life more than once. "I was literally living there waiting for my day to die," he said. He received help from HIAS' office in Kenya, which tried to connect him with a therapist and give him mental-health support. But in the face of the trauma he had endured, counseling sessions were not enough. "Those therapists would come and talk to me and it was okay," he said. "But after they left, I would go back to my dark moments."
It became clear that Yusuf could not survive in Kenya. "The UN eventually said, 'Well, even Nairobi is not safe for you, we have to find a country where we could send you and you can just be who you are,'" he said. In 2014, he was granted permission to resettle in the United States.
A New Life
Yusuf's first moments in the United States were joyous. The woman he met — Amy Weiss, then the director of refugee and immigrant services at JFCS East Bay — as he hoped, became a surrogate mother figure, his closest friend in the United States to this day. But it took far longer for Yusuf to be able to truly relax in his new surroundings.
"Sometimes it's hard for them to trust us as a provider because they have been betrayed all their lives," said Fouzia Azizi, the current director of refugee services at JFCS East Bay. "It really takes time to kind of build that relationship."
This was certainly true for Yusuf. In the months after he arrived, JFCS East Bay provided him with housing, employment, therapy, English lessons, and help with all of the basics he needed to survive. HIAS and its affiliates make those services available to thousands of clients, helping them integrate successfully into their new communities. Even with that assistance and his relationship with Weiss, he said, it took eight months before his nightmares subsided and he was able to believe he was no longer in danger.
That moment is in many ways the ultimate goal of helping refugees and asylum seekers, said Cynthia Groomes Katz, HIAS' supervising attorney in New York. Katz, a former U.S. government asylum officer, helps HIAS clients apply for asylum in the United States (asylum seekers seek protection for the same reasons as refugees, but do so once they have come to the United States rather than applying from their home countries). While many of the services people like Yusuf receive are focused on their economic and physical needs, rebuilding their mental well-being and sense of safety is what really allows them to thrive in their new homes.
"We can help support the person and build that resilience, and that's success," Katz said.
Yusuf, now 27 years old, has found that success. And, like so many other refugees, he is now focused on giving back to the community that has accepted him. Currently a medical assistant, he is training to become a nurse.
"After my experience in Kenya as a refugee and all that, I've always kind of wanted to do something to help people in need," Yusuf said. "And I couldn't think of anyone who's more needy than a person who is in a hospital bed."
Having survived so many years of trauma and darkness, he believes his experiences will help him be a source of comfort to others. "Now, if somebody comes to me and tells me they are hungry, they are stressed, I immediately feel it," he said. "I hear them. Yes, I understand what you are saying. Because I've been there."
*Pseudonym used for client's protection