With a Safe Space, Women Bond and Save
By Sharon Samber, HIAS.org
Mar 27, 2019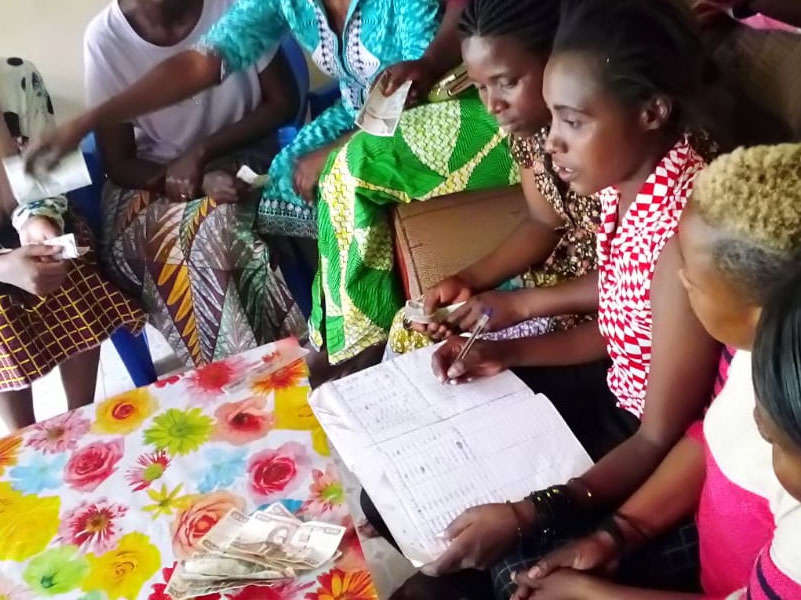 (HIAS Kenya)
What could you do in 16 weeks? If given the chance, it turns out that urban refugee young women in Kenya can do a lot.
In just a few short months, fifty adolescent girls and young mothers between the ages of 18 to 26 learned some of the skills necessary to transition to adulthood and how to build up assets. Over the last year, with funding from the U.S. Bureau of Population, Refugees, and Migration, HIAS Kenya started a "safe space" where younger inexperienced women could learn from older and more experienced refugee women who teach them about high self-esteem, financial management skills, peer networking, and raising of self-awareness of their rights. The safe space is a place where people with similar challenges feel free to talk about their private issues without being judged.
During the 16-week program, the younger women were helped by the older women, who acted as mentors, through various sessions. The different topics discussed included building self-esteem, self-awareness, goal-setting, basic human rights, sexual reproductive health rights, financial management skills, and gender- based violence, among others.
Perhaps the most noteworthy aspect of the sessions was the peer networks the younger women were able to build with their colleagues. In these groups the women built relationships so they could discuss and solve their problems and personal issues. More than half of the members were young mothers who were facing many obstacles.
"Young refugee girls and teen mothers often face a lot of challenges in meeting the needs of their families particularly because they lack social support structures from the family and community," said Lucy Kiama, HIAS Kenya Country Director. "Building peer networks is crucial to enable them to rebuild their social networks."
During the sessions, members of one group in Kasarani not only became associates but they also started saving part of the transportation reimbursement they were getting from HIAS. The fifteen women made small contributions, essentially putting money away until it came back to them as a larger sum in a kind of merry-go-round. The Kasarani group realized the merry-go-round was helpful but limiting, so they took what they learned from the mentorship program and started a savings group.
Over a period of six weeks they had saved KES 20,000 ($200 USD) which they loaned to members. They also started making petroleum jelly as a group income-generating activity. A new HIAS initiative allowed for a match of the group funds after 6-8 weeks as a way to encourage the women to continue saving. In November 2018, the savings had grown to KES 120,000 ($1,200 USD) and the women were already venturing into other businesses, such as catering for weddings and other social events, and mat making.
The Kasarani group is also planning to start a program where they could mentor other young girls in the community on what they had learned during the peer mentorship, with a focus on the need for savings.
One of the group members said: "Before I joined this group, I was struggling to feed my child and to pay rent. I was always stressed. When we started saving, I was kicked out of my house due to rent arrears. I went to the group and they loaned me some money to clear my rent. I went back to my house. I am now repaying the money with the little amount I make daily from selling watermelon. I am no longer stressed and I am looking forward to expand my business so that I can increase my saving contribution."
Other members of the group said that the skills they gained from the training and the savings group positively impacted their lives. They were excited to see their savings grow and the saving group enabled them to become self-reliant.