Thousands of Ukrainians Arrive in Israel, But Not All Are Welcomed
By Sharon Samber, HIAS.org
Mar 29, 2022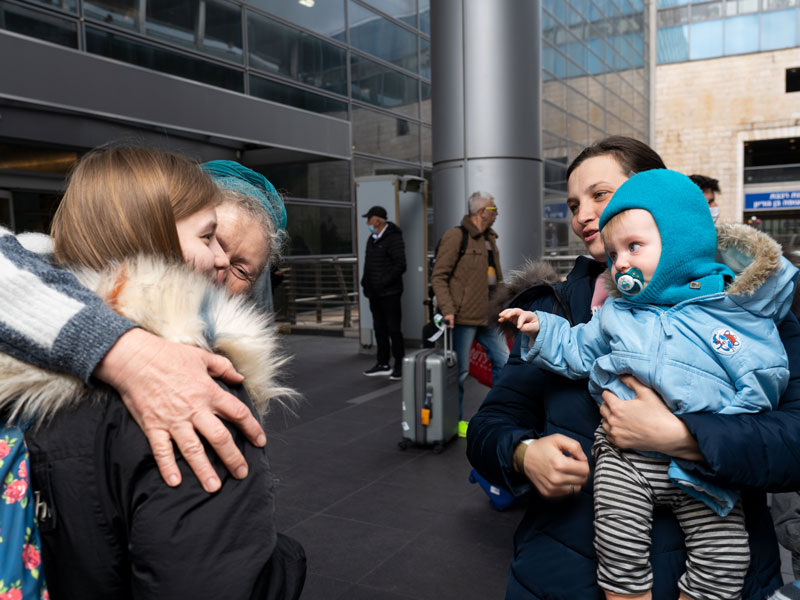 (Roni Kaufmann)
Since the beginning of the war in Ukraine, many around the world have seen how Israel has responded: helping Ukrainian Jews get out of the war zone and on flights to Israel, sending Israeli doctors to help refugees at the Ukraine-Poland border, and taking in thousands of Ukrainians.
Images showing Jews and non-Jews fleeing from Ukraine arriving at Ben Gurion Airport have been heartwarming, but there is another side to the situation, and it's one that is not particularly welcoming to refugees. What most people don't see are the refugees held at the small detention facility at the airport, sometimes for several days, before they are released with a bond or expelled.
Over 15,000 Ukrainian refugees have arrived in Israel since the start of the crisis, nearly all women and children. HIAS Israel's legal team has been flooded with calls for assistance, mostly from family members who are trying to reunite with their children who fled the war. But many Ukrainians, even those with relatives in Israel, have found themselves in an uncertain situation.
People arriving in Israel can be refused entry for many reasons. "It could be anything from a relative in Israel who has overstayed their visa, or minors coming to reunite with a parent who is undocumented," said Sivan Carmel, HIAS Israel's country director. "The decision to refuse entry requires urgent legal response and lawyers are up all night filing appeals to prevent the refugees from being expelled. Having an opportunity to find legal representation to file an appeal is critical."'
One case HIAS Israel took on last week illustrates a number of the problems. After surviving heavy bombing, a brother and sister fled their home in Ukraine where they lived with their grandparents. The siblings took a 12-hour bus ride to Poland, and boarded a flight to Israel, where their mother lives. They were refused entry because the mother was undocumented, and the teens were scheduled for expulsion at 5 a.m. the following day.
After being enlisted to help by another legal group, HIAS' legal team, joined by pro bono attorneys from the EBN & Co. law firm, worked through the night to file an appeal in district court, resulting in the children's release with a bond of 20,000 shekels ($6,270 dollars). Their mother, who had waited over 19 hours outside the airport, told her lawyers through an interpreter: "We did not have any hope. Without your help my kids would be alone in the world. All my life I will pray to God for you, for bringing me back my kids, my life."
Just days ago District Court judge Michal Agmon-Gonen issued a ruling related to the case, directing the government to give Ukrainian refugees who are ruled ineligible to stay in Israel 48 hours to appeal the decision. The ruling also states Ukrainians subject to expulsion must be informed of their right to legal counsel and their right to appeal, with written notice to be provided in both Ukrainian and Russian. The judge even concluded her decision with a quote from the Book of Exodus, and referring to next month's Passover celebration, said: "If we would only remember the commandment regarding treatment of the oppressed on the Passover holiday, the festival of freedom."
HIAS Israel has taken on nearly a dozen cases, others also high profile, to stop refugees from being sent away. They have been successful in every case so far, but the approach of the government and the difficult process has been confusing and disconcerting. "If you have lawyers, you negotiate a bond because the court has not issued a clear ruling," Carmel said. "All of this is striking deals, which is not the way justice should be done."
Israel has not passed a Temporary Protective Directive like the EU did to provide a limited, but universal, set of rights for incoming Ukrainians. The question of who is allowed entry to Israel and what kinds of services they receive once in the country is rife with issues of political, moral, and religious sensitivity. Under Israel's Right of Return law, Ukrainian citizens with at least one Jewish parent or grandparent or a Jewish spouse automatically qualify for Israeli citizenship. The story is different for Ukrainians who do not clearly qualify.
At the beginning of the war. Israel limited entry to only 5,000 non-Jewish Ukrainian refugees who are not relatives of Israeli citizens. (HIAS Israel joined an amicus brief challenging the quota.) The Ministry of Interior then altered the guidelines, saying any Ukrainians with relatives living in Israel would be allowed in temporarily and would not count toward the quota of 5,000. It also said it would allow 20,000 Ukrainian non-Jews already in the country, most of them undocumented, to stay for three months, until the end of the fighting.
In the first month after Russia invaded Ukraine, Israel has received about 11,000 non-Jewish Ukrainians for whom the government says it will provide three months of humanitarian aid that includes temporary housing in hotels, basic health insurance, and supplies such as clothing and food. Notably, elderly Ukrainians are receiving benefits that other asylum seekers who have been in the country for years have not been able to get.
According to the latest numbers, nearly 300 Ukrainians have been refused entry, some were deported, and between 40-50 have filed appeals against their deportation orders. With four lawyers on staff, HIAS Israel is working as best as it can to keep up. Nimrod Avigal, HIAS Israel's deputy director and head of legal aid, recently held a training for 50 lawyers from commercial firms; 15 have already agreed to take on cases pro bono.
Besides individual cases, HIAS Israel is involved in strategic litigation, cases where precedents could have broad impact, and is also working with other organizations on the heightened need for protection of women and girls, advocating for those who face risks of gender-based violence, trafficking, and exploitation.