Jewish Community in Ukraine Bounces Back, Pays It Forward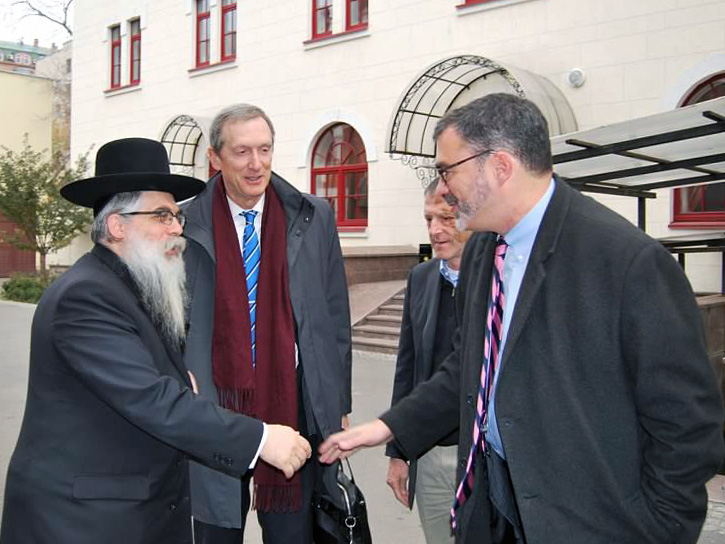 (NCSEJ)
Conflict in eastern Ukraine has displaced more than 1.5 million Ukrainians. In addition to these internally displaced persons, or IDPs, Ukraine is also currently home to thousands of stateless persons, refugees and asylum seekers. At HIAS, a Jewish organization that was started over 130 years ago to help Jews fleeing from Ukraine and Russia, their plight is never far from our minds.
Over the years, HIAS helped thousands of Jews from Ukraine flee Soviet rule, official anti-Semitism and cultural genocide. In 1989, as a HIAS caseworker, I met many Soviet Jews who had fled Dnipropetrovsk. I never thought I would see the day when that city, the third largest in Ukraine, would again have a thriving Jewish community. But that is exactly what I found when I traveled to Dnipropetrovsk on a delegation of the National Coalition in Support of Eurasian Jewry.
The NCSEJ visit was intended to demonstrate solidarity of the American Jewish community with the Jewish community of Ukraine, particularly in the context of the upcoming 75th anniversary of the Nazis massacre of over 30,000 Jews at Babi Yar. HIAS participated to demonstrate solidarity, as Jews, with the internally displaced persons, stateless persons, refugees and asylum seekers in Ukraine.
The Jewish community of Dnipropetrovsk held a dinner in honor of the NCSEJ delegation at the Menorah Center, the largest Jewish community center in the world, which serves Dnipropetrovsk's community of 60,000 Jews. Anna Rich, the Senior Protection Officer at the UN Refugee Agency in Ukraine, rose to make a toast. She recounted how, as a little girl named Ana Rabinovitch from Leningrad, HIAS resettled her family through the Vienna-Rome pipeline to Melbourne, Australia. Over three decades later, Anna is working in partnership with HIAS in Ukraine to protect refugees, stateless persons and IDPs, some of whom are Jewish, the vast majority of whom are not.
Anna's story is very much HIAS' story. Like Anna, HIAS now helps displaced persons not because they are Jewish, but because we are Jewish. As we learned from our meetings that day, members of the community are engaged in such efforts as well, assisting their neighbors who fled the conflict in the Donbas region. Such local efforts are vital, as the Ukrainian government has struggled to cope with the ongoing crisis there.
In meetings with senior government officials, I saw evidence that substantial progress had been made for IDPs since my last visit in April, when IDPs suffered from serious restrictions on their freedom of movement and other serious difficulties. Challenges remain, however. It is still very difficult for IDPs to find suitable housing or to find ways to support themselves economically, and IDPs are still essentially unable to vote in elections. One Ukrainian official acknowledged that many IDPs, after facing such difficulty finding work for themselves, shelter for their family and schooling for their children, are unlikely to return to their former homes in Eastern Ukraine once that region is brought back under Ukrainian control. He also acknowledged that IDPs should not merely be allowed to vote in elections, but to run in them.
There are still plenty of challenges in Ukraine. The government is still fighting one battle against corruption and another against Russian-backed forces in the East. There is, however, hope – and progress. More than two decades ago, HIAS was helping Jews flee Dnipropetrovsk. Today, the Jewish community there isn't just thriving, they are working with HIAS and UNHCR to help others who are displaced.