Italian Jews Welcome Afghan Families
By Ayelet Parness, HIAS.org
Jan 21, 2022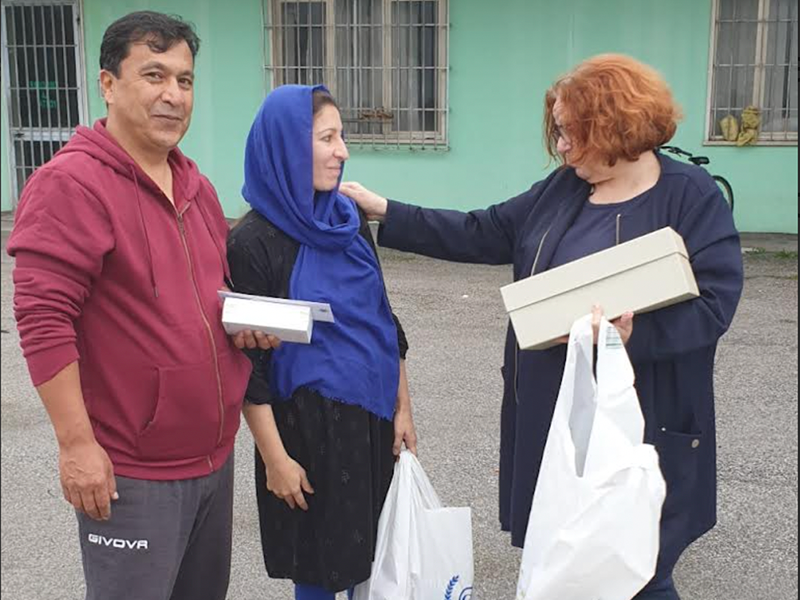 (UCEI/Pagine Ebraica)
They arrived in Italy having fled the Taliban takeover in Afghanistan. They left behind everything they knew – including, for some, even their documentation. For 17 Afghan families scattered throughout the country, HIAS Europe and the Union of the Italian Jewish Community (UCEI) have stepped in to provide essential resources and support.
"We are talking about well-integrated people, with a good standard of living for Afghanistan," said Silvia Brizio of Ciano International, a catering and logistics company that employed members of some of the families back in Afghanistan. "They had to quit everything, without notice, and now have to start again from zero."
Having worked alongside NATO forces in Afghanistan, Ciano International's Afghan employees quickly found themselves targets of the Taliban. Through Italian military and diplomatic channels, the company was able to help over 100 employees and family members gain clearance to evacuate; the employees coordinated via Whatsapp to avoid Taliban checkpoints and evacuate in groups over the course of 6 days.
When the Italian authorities released the newly-arrived refugees from their COVID-19 quarantine, the Jewish community was ready. UCEI, a national organization that represents 21 Jewish communities across Italy, has taken the lead in hosting and welcoming 17 families from Afghanistan in partnership with volunteers from local Jewish congregations across Italy. UCEI is no stranger to supporting refugees – and according to Uriel Perugia, UCEI's secretary general, the decision to intervene was an obvious one.
"The Jewish world and life is not only ancient history and the Shoah," said Perugia. "We have thousands of years of contribution to the development of our societies. In that sense, it was natural for UCEI, as the representatives of Italian Jewry, to play our part."
With funding from HIAS, the organization has purchased and distributed cell phones, SIM cards with a year's paid service, and essential hygiene products to all the families. Access to cell phones provides the refugees with a much-needed lifeline: the ability to contact their loved ones, apply for work, and connect with resources.
"They welcomed us warmly," UCEI social worker Elisa Lascar told the Italian Jewish newspaper Pagine Ebraica, after delivering devices to Afghan families in the Piedmont region. "Some spoke to me a little in Italian, above all to thank us and then we exchanged a few words in English. They were curious about the Jewish community, asked me some questions, and were thrilled about the SIM cards."
This project with UCEI is part of a larger strategy that HIAS Europe is using to expand its support for refugees in new areas. When searching to address a forced migration crisis, HIAS first looks to local Jewish communities to find ways to collaborate on a joint response and provides financial support and technical knowledge to aid communities in supporting those impacted. Recently, the organization has also been working with Jewish Community Centers in Warsaw and Krakow, Poland to support migrants and asylum seekers trapped at the Poland/Belarus border.
"When local Jewish communities in Europe look to engage in humanitarian work, we stand ready to support them," said HIAS Europe director Ilan Cohn. "Joint initiatives such as these enable us to respond more quickly to a crisis, regardless of whether HIAS has an established operational presence in the area, and to mobilize support for those affected by forced displacement."