Digital Marketing + Corporate Partnerships = Success for Refugee Entrepreneurs
By Nicole King, HIAS Peru Economic Inclusion Coordinator, and Adriana Monar, HIAS Ecuador Livelihoods Specialist
Jun 29, 2020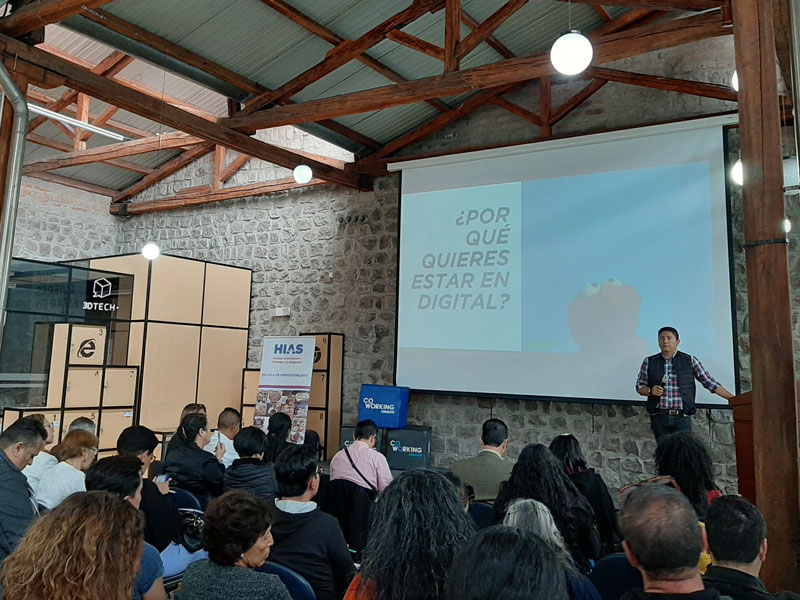 (HIAS Ecuador)
Sometimes a website is just a place on the internet to buy things. But sometimes it is much more.
HIAS and Wix, a website-development company, have developed a new workshop series on digital marketing to help refugee entrepreneurs in Ecuador and Peru grow their businesses — and the results can be life-changing.
Right now the workshops are particularly important since COVID-19 has forced many businesses to stop their usual practices. For those who have been able to change, being able to sell online is crucial, whereas it was not seen as a need or even an option before.
"I never thought it was possible to transform my business without leaving my house," said Luis, who lives in Lima, Peru. Luis was working in textiles together with his wife making clothes for people in the community. Then he began selling masks and is now trying to promote other services through social media.
"Now I feel like I have a second chance," Luis said.
Because of COVID-19-related restrictions, refugee-owned businesses can't use traditional avenues like local fairs to promote themselves. The pandemic is forcing them to pivot their marketing efforts toward social media, websites, and blogs, things many refugee businesspeople may not be familiar with.
Some of HIAS' corporate partners, such as Wix and Coursera, are able to help. Last year, with the support of CONQUITO (Metropolitan Agency for Economic Development in Quito), Wix conducted its first in-house training session with HIAS, showing more than 50 refugee entrepreneurs in Ecuador how their businesses — mainly focused on food, handicrafts, and textiles — can build websites and use social media to reach more customers. Before the workshop, many of the participants did not use social media or only had a basic knowledge of it.
"The workshop was great! I think it is a great tool for the difficult times ahead. Maybe with these tools we can find new job alternatives," said Betzabeth of Ibarra, Ecuador, who works as a social media manager with several businesses and hopes to offer more innovative options to her clients.
With the support of Wix's own local partners, such as Esperanda Agency and Bubo Branding, HIAS has now conducted six workshops with more than 400 participants from different countries around the world, including Ecuador, Peru, Colombia, Venezuela, and Spain. HIAS and Wix are also expanding the program to more countries and launching a series of free webinars for refugees and local community members.
For Elisa, a beautician who lives in Quito, Ecuador, the strategies and tools she learned helped her to meet clients she didn't know were interested in her services.
"Now I am working for them," she said.
In addition to the workshop series, business owners also have access to business-related courses and certifications through HIAS' partnership with UNHCR and Coursera. These virtual courses provide additional training opportunities for entrepreneurs to gain critical knowledge that will help them manage their businesses and be more resilient in the long term.
Corporate partners play a key role in the support HIAS provides to clients in the economic inclusion programs. In Latin America, HIAS works with more than 130 private sector partners, from small local enterprises to multinational companies, to promote economic inclusion at the community level.
"Companies have a unique opportunity to be life-changing agents in the lives of vulnerable people," said Galo Quinzaga, HIAS' global director for economic inclusion. "But there is also a great chance to learn about the contributions that refugees and vulnerable migrants bring to boost the labor market."
HIAS is planning more workshops in other digital marketing areas so refugee-owned businesses can continue to adapt their products and services.
"During these difficult times of uncertainty and change, forcibly displaced people need support to keep their spirit of innovation and willingness to contribute to their community's development," Quinzaga said. "These programs help them stay motivated so they can recover their self-worth and regain their dignity."