HIAS Reunites Salvadoran Asylee with Her 3-Year-Old Son
By Jonathon Orta, HIAS Paralegal
May 01, 2018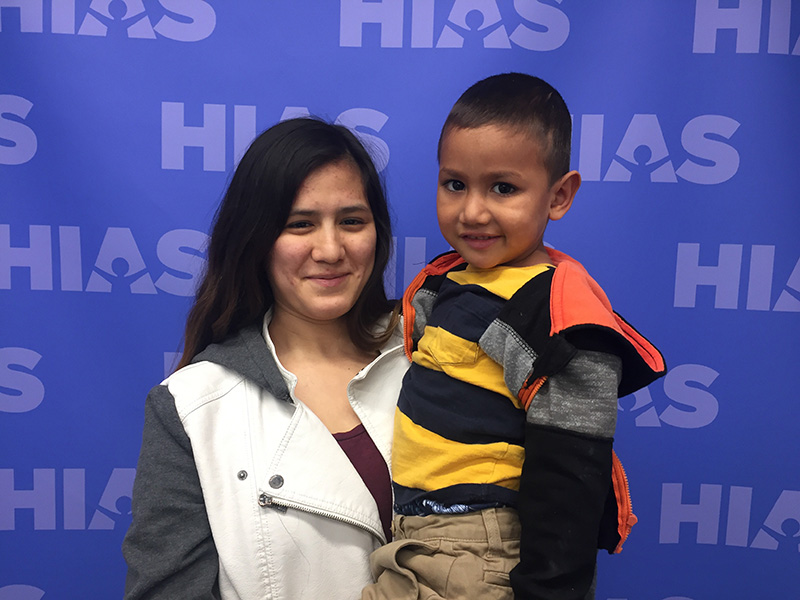 (HIAS)
In August 2015, after escaping an extremely abusive relationship in El Salvador which forced her to leave her infant son behind with her mother, Elizabeth fled to Maryland to seek asylum.
Just 15 years old at the time, Elizabeth became one of HIAS' first legal clients in Silver Spring. HIAS staff worked with her for more than a year and a half to prepare her case and connect her with various local social service agencies including the Primary Care Coalition of Montgomery County.
In January 2017, she was finally granted asylum in the United States.
Beyond the immediate benefits such as access to work authorization and the right to a social security card, the new legal status empowered Elizabeth to petition the U.S. government to allow her son, Daniel, to join her in the United States. Nearly 14 months later, Daniel was able to reunite with his mother in March in an incredibly joyous milestone for the family.
Now living safely and together with her son, Elizabeth is very excited to restart her life. She is currently pursuing her high school diploma and was recently promoted to a manager at the restaurant where she works.
HIAS is also petitioning for Elizabeth's green card, which will bring her one step closer to full citizenship.
Elizabeth and Daniel are living proof that America's asylum system can and should be preserved as a lifeline for families fleeing persecution.
In fact, the grounds for which Elizabeth was able to seek asylum in the United States is currently at risk of being eliminated by Attorney General Jeff Sessions.
The re-opened case under review, known as the "Matter of AB-," deals with "whether, and under what circumstances, being a victim of private criminal activity constitutes a cognizable 'particular social group' for purposes of an application for asylum or withholding of removal." If the ruling is reversed, it could keep all victims of domestic violence (among other victims) from being granted asylum.
On April 27, 2018, HIAS joined the Catholic Legal Immigration Network, Inc., Lutheran Immigration and Refugee Service, National Council of Jewish Women, World Relief and several others organizations in filing an amicus brief to the Department of Justice, opposing the narrowing of established asylum grounds that would affect domestic violence victims, as well as victims of religious persecution perpetrated by private actors.
Ultimately, the opportunity for immigrants and asylum seekers to assert their right to protection in our legal system can seem theoretical, but for hundreds of thousands of individuals like Elizabeth, it's incredibly real—and worth defending.
To read more about HIAS' work protecting asylum seekers click here, and follow us on Facebook, Twitter and Instagram.