New D.C. City Council Resolution Honors Jewish Refugees
By Gabe Cahn, HIAS.org
May 02, 2017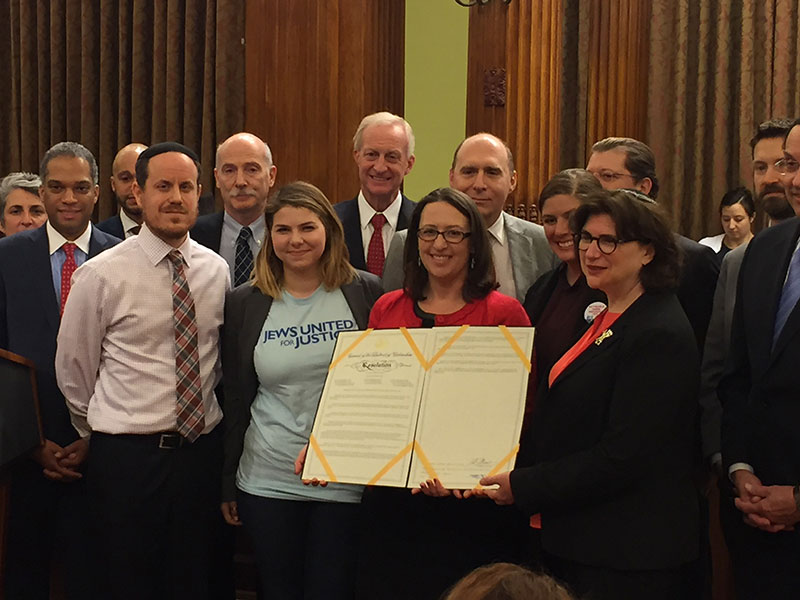 (Office of Councilmember Brianne K. Nadeau)
On May 13, 1939, the MS St. Louis set sail from Hamburg, Germany. The ship was headed to Havana, Cuba, carrying 937 passengers; the majority of which were European Jews embarking on the transatlantic journey in order to flee the Third Reich.
After being denied entry first by the Cuban government and then the United States government, the ship returned to Europe on June 6, where 254 of the passengers ultimately perished in the Holocaust.
The journey of the MS St. Louis has come to signify the tragic consequences of the United States closing its doors on refugees and asylum seekers, and either directly or indirectly sending them back into harm's way.
Now, for residents of Washington, D.C., May 13, 2017, will officially be a day to "reaffirm the value of a pluralistic society, the beauty of a city composed of multiple cultures, and the acceptance of those seeking refuge from persecution."
The Council of the District of Columbia unanimously passed the resolution designating May 13 as "Remember the St. Louis Day" last month when it was co-introduced by D.C. Councilmembers Brianne Nadeau and Brandon T. Todd. It was formally presented, alongside members of Washington's Jewish community, during a May 2 Council meeting.
HIAS Director of Advocacy and Outreach Liza Lieberman, who attended the meeting, recounted the remarkable morning in D.C. City Council.
"Nearly 78 years after the MS St. Louis was turned away from the United States, American Jews around the country—including over 2,000 rabbis and more than 350 congregations—are urging the U.S. government to keep America's doors open to refugees," said Lieberman. "HIAS was honored to stand with Councilmembers Nadeau and Todd this morning as they presented this important resolution."
It's official. This May 13 is Remember the St. Louis Day in DC, to serve as a reminder of what happens when we chose to reject refugees. pic.twitter.com/rfqvvsMdlK

— Brianne K. Nadeau (@BrianneKNadeau) May 2, 2017
"We've seen what happens when America closes its doors to refugees and we don't want history to repeat itself," said Councilmember Nadeau. "My family immigrated to the United States several generations ago, fleeing religious persecution that Jewish people faced in Europe. Each of us has a responsibility, now more than ever, to stand up for our neighbors who are vulnerable."
You can read the full text of the legislation, the Remember the St. Louis Day Ceremonial Resolution, online here.