A Tablet Can Be a Lifesaver
By Susan Din, Manager, Institutional Development and Partnerships and Tiana Gonzalez, Program Manager, Matching Grant
May 19, 2020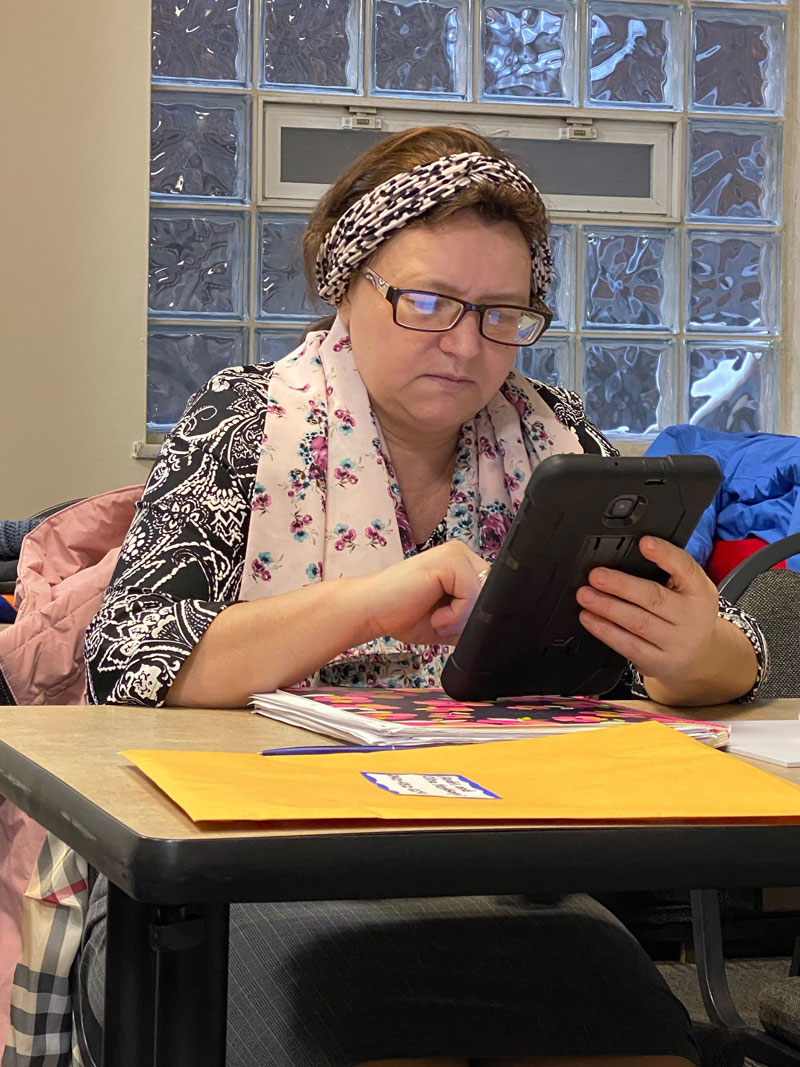 (US Together Cleveland)
Yuliia is beginning a business in cosmetology. Dina is starting a business in wedding dress embroidery. All with the help of a tablet.
These women are part of a pilot project that began last year, which has been jump-started and given a whole new level of importance during the pandemic.
Several months ago, HIAS began providing digital literacy training and access to digital tools to refugee clients in partnership with local partner US Together in Cleveland. The aim of the project is to help refugees improve their digital literacy, focusing on the skills and knowledge required to navigate the Internet and protect themselves online, all of which are necessary to succeed in an increasingly digital world. The project also supports language learning, economic integration, and education opportunities for refugees, so they are better equipped to overcome the challenges of integration and engage in the digital economy.
With the outbreak of COVID-19, HIAS' resettlement network had to implement a quick transition to remote case management services. Having launched the digital literacy pilot in January, US Together was uniquely positioned to quickly adapt these services.
As part of the pilot project, clients received tablet computers with a suite of mobile applications specifically curated for refugee clients. With the support of volunteers, HIAS and US Together are providing digital literacy education through bi-weekly classes and one-on-one mentorship using a digital literacy toolkit developed by HIAS.
In a video by US Together some clients express their gratitude for the tablets. One woman said she and her son learn English together, and another woman said the program has helped her adapt to life in the U.S.
The tablets have helped clients with everything from language learning to employment, financial literacy, and entrepreneurship. Both Yuliia and Dina are using their new digital skills to support their entrepreneurial ambitions in US Together's Microenterprise Development program. Both women are now creating LinkedIn accounts, building their business' social media presence, and improving their English, which all help to reach new customers.
"As COVID-19 upends service delivery at resettlement agencies across the country, I can't think of a more important time for work like this," said Evan Chwalek, the economic integration coordinator for US Together Cleveland. "Clients have built community networks, enriched their children's lives, and prepared for employment amid a pandemic, which I think is really remarkable."
The project has also provided a critical channel for US Together to communicate necessary information and real-time updates related to COVID-19 directly to clients in their native languages. In addition, the tablets provide opportunities for recently resettled refugees — many of whom are facing unemployment and extreme social isolation — to stay connected and continue developing critical skills while they may be out of work. Participating clients with children also have access to family-friendly virtual learning opportunities through apps like Rosetta Stone.
Refugees are at risk of falling behind in an increasingly digital economy, but by focusing on fundamental skills that will increase their digital competency and confidence with technology, HIAS hopes to narrow the digital literacy skills gap and achieve digital inclusion for refugees as they rebuild their lives in the U.S.