East Bay Event Lets Californians Learn About—and From—Refugees
By Holly Taines White, Jewish Family & Community Services of East Bay
Dec 08, 2015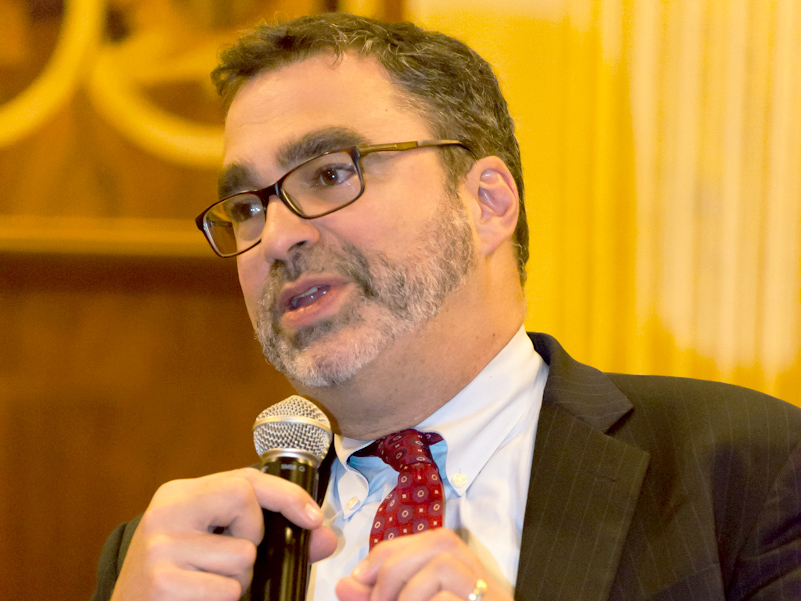 (Susan Freundlich)
As a gay man growing up in Syria, Subhi Nahas' life was put in immediate danger when the militant group al-Nursa took over his town and pledged to "cleanse" it of LGBT people. Nahas fled to Lebanon and then to Turkey, where he was told that ISIS operatives were aware of him and he could be targeted again.
He moved from safe house to safe house while awaiting refugee status to come to the United States. He finally arrived here five months ago, eager to start anew. "No one is going to control my life anymore," Nahas said.
With the attacks in Beirut and Paris fresh in our minds, more than 100 community members gathered at Temple Sinai in Oakland, California, on November 15 to learn about the global refugee crisis from refugees like Subhi Nahas as well as those who work to protect them.
"These horrible attacks only strengthen our resolve to continue welcoming those who are fleeing terror and persecution," JFCS East Bay Executive Director Avi Rose said. Jewish Family & Community Services East Bay, HIAS' resettlement partner in the Bay Area, hosted the event along with the Jewish Community Relations Council.
HIAS President & CEO Mark Hetfield reminded the audience that it is crucial for the public to distinguish between refugees, who are fleeing terror, and those who commit terror – like the militants who terrorized Nahas. He pointed out that the United States has systems in place to make such distinctions. "Any refugee accepted into the United States goes through numerous security checks," Hetfield said. "Refugees are the most well-vetted people who enter the country. The process is so complex and deep that it often takes refugees years to finally get clearance and be able to come here."
"We know from the experience of resettling hundreds of thousands of Soviet and Vietnamese refugees, and many other groups, that the security of the United States is not put in danger when we live up to our values and offer sanctuary to those who need it," Hetfield said.
And there are many right now who need it. Randa Alsafi, who is now a case manager for JFCS East Bay, came to the United States as an immigrant from Syria in 2003. "There is not one single Syrian who has not been affected by the events in their country," Alsafi said. She and her husband were considering moving their family back to Syria, but when the war started in 2011 they had to put that dream on hold. Her sister and niece are still in Syria, in constant danger, and two of her nephews have fled to Europe and are now living in a camp in Germany.
For now, she is doing what she can to help. "I am proud to serve newly arrived refugees, helping people from traumatic situations be able to live in a safer place," Alsafi said.